What is Accountant Copy and How to Use It in QuickBooks Desktop?
If you manage your reckonings in QuickBooks Desktop by yourself. You are required to send the company file to your accountant for review. You will clearly use the QuickBooks Accountant Copy feature in QuickBooks Desktop.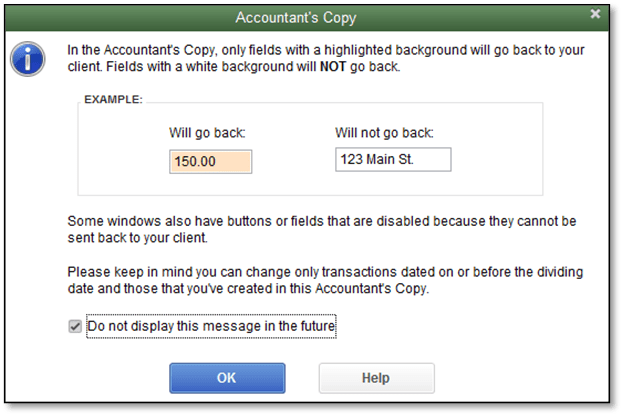 It is a wondrous feature in QuickBooks desktop that allows you to create and send a copy of the company file to your Accountant without you having to stop your work while they check the files.
How Does the QuickBooks Accountant Copy Work?
You might frequently need to send QuickBooks company files to your accountant, and it is impractical to wait for them to send the files back. Instead, QuickBooks Accountant Copy can allow your accountant to make any changes while you continue working on the file, and then you can just merge the changes by importing the Accountant Copy.
How to Create Accountant Copy in QuickBooks Desktop?
QuickBooks offers two ways to create and send an Accountant's Copy. You can either put it on a flash drive or upload it on a cloud drive. You can also use QuickBook's built-in File Transfer Service.
To create a QuickBooks Accountant Copy,
Open QuickBooks, click on File, and select Send Company File.
Go to Accountant Copy, then Client Activities, and click on Save File.
Then click Next and choose Accountant's Copy.
Click Next, choose the dividing date, then hit Next.
You will now get QuickBooks Desktop Accountant Copy in a .qbx file format. You can give it to your Accountant on a USB flash drive or send it over email or a cloud service like OneDrive, Dropbox, Google Drive, etc.
How to Send Accountant's Copy via QuickBooks File Transfer Service?
In the File menu, go to Send Company File.
Select Accountant Copy and go for the option Client Activities.
Click Send to Accountant and hit Next.

Choose the dividing date and click 'Next.

Type your Accountant's and your email address.

Enter a password for the file and share it with your accountant.

Click Send.
Once the file is sent, the Accountant's Copy is available to download for two weeks before it gets deleted from the servers.
How to Import a QuickBooks Accountant Copy Change File?
Once your accountant has reviewed the Accountant's Copy file and made changes to it, they can send it back to you in a change file format (.qby).
If they send it through the Web, you will get an email notifying you of the same and asking you to download the file within 30 days.
To import these changes directly into your QuickBooks file, you need to open the company file that you used to create the Accountant's Copy.
Then follow these steps:
Click File and choose Accountant Copy.
Go to Client Activities and click on Import Accountant's Changes from Web.
QuickBooks will download the file and open the change listing.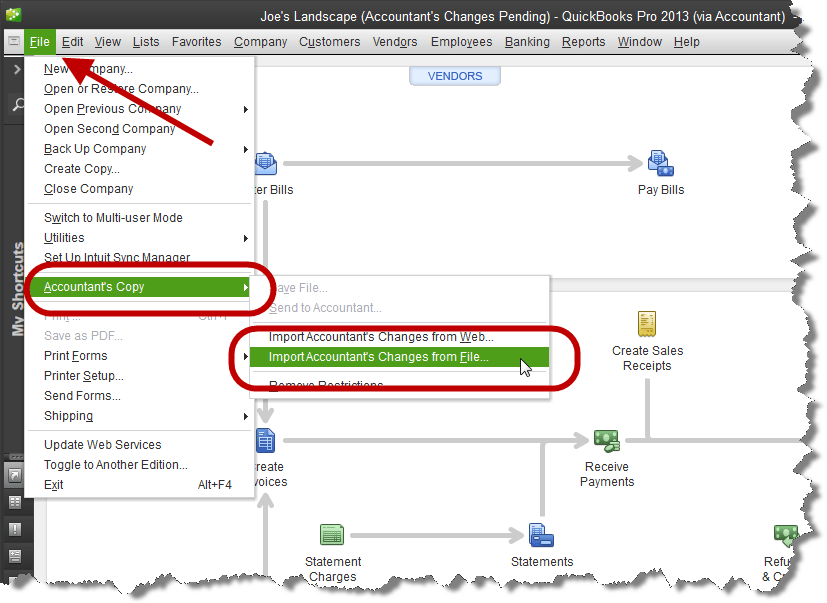 If you already have the change file, you can select the Import Accountant's Changes from File option in Client Activities to open it directly. Or, you can just double-click the .qby file to open it (make sure your original company file is open).
How to Incorporate Your QuickBooks Accountant Copy Changes?
After you have successfully opened the change file,
Go through the changes made by your accountant and ensure that none of the changes made by your accountant conflict with your work. In case it does, you'll get a message below the change with additional instructions.

If you want to keep a record of the changes, you can save it as a PDF file or print it.

Once you have reviewed the files and are satisfied with the changes, click on Incorporate Accountant's Changes and hit OK. (If you don't want to import the changes, just close the file.)
A window will open up instructing you to Save a Backup Copy of your company file. Pick a folder for the backup and click OK. Close the window when the process is completed.
Note: During this process, the title bar will display a warning saying Accountant's Changes Pending. Once you have incorporated the changes, this warning will go away.
Reach out to QuickBooks Desktop Experts & Get Help With Accountant Copy in QuickBooks Desktop
Using a QuickBooks Accountant's Copy can save a lot of time and make it easy for you to collaborate with your accountant. In case you are unable to follow any of these instructions, ask your accountant for help or reach out to QuickBooks Desktop support experts at +1888-727-4587.