Quick
B
ooks Hosting – Cloud Computing for QuickBooks
QuickBooks hosting has unlocked another dimension for QuickBooks users. QuickBooks by Intuit is one of the world's finest bookkeeping software programs. It has empowered small and big businesses making accounting and balancing easier and even automating several processes. For a long time, users could store their QuickBooks data on their local PC or servers only. This meant that you could access information for your QuickBooks account only from your PC on which such data was stored. But present–day technologies have accelerated the pace at which any business carries out many of its processes because users now have on-the-go access to most of the information they need. Using QuickBooks hosting service offers a similar benefit.  
How does 
QuickBooks Cloud Hosting Service
 work?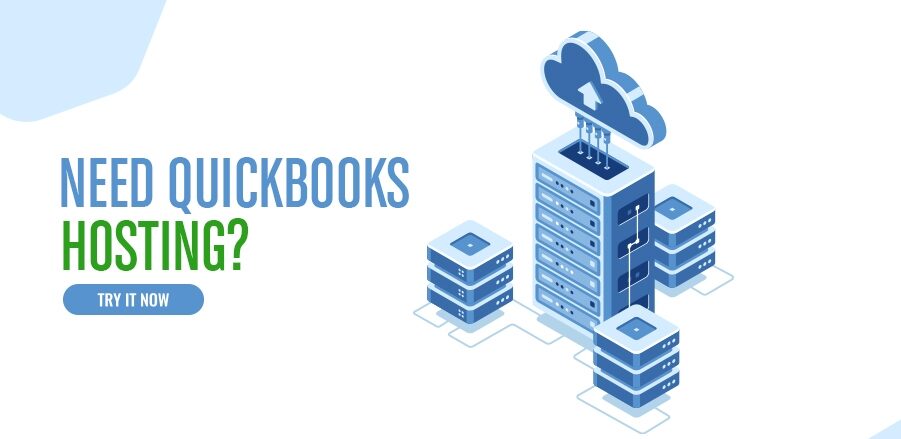 There are several QuickBooks hosting providers that offer cloud hosting for QuickBooks. Once you have chosen a reliable cloud host, you can upload your licensed copy of QuickBooks on their cloud servers.  
After you set up QuickBooks cloud hosting, you can access it easily from anywhere, provided you have internet access that will be yours.
With all your QuickBooks data saved on the cloud, creating regular backups will not be necessary any longer since this is done automatically by the cloud servers. This makes the data easily accessible to anyone authorised to access your licensed copy of QuickBooks software for e.g. your accountant, bookkeeper, or employee.
Get Personalised Consultation for QuickBooks Cloud Hosting by QuickBooks Experts
QuickBooks Enterprise Hosting Support
Support for QuickBooks Enterprise Hosting will depend on the nature of the problem you face with the program. At times the cloud hosting provider will be required to look into server problems or programs that may be interfering with the software, at other times you may need help with the QuickBooks software program itself. 
Since support is split between the two providers you may have to identify the source of the problem before talking to QuickBooks or the cloud host.  
Benefits of using Cloud
hosting for QuickBooks
Desktop
If you have been mulling over the question of whether QuickBooks Cloud hosting is right for you or not, then consider weighing the benefits and problems to figure out if it is the right solution for your business. Some of the benefits of using cloud hosting for QuickBooks are: 
Lower overhead costs – you save on the expense of storing and protecting data locally. Instead, you simply purchase a QuickBooks license and pay for the hosting service.
The cloud host is responsible for the security of the servers on which your software is being hosted. You do not incur any maintenance costs for maintaining the equipment and upgrading to new technologies. This makes QuickBooks Cloud hosting service to be more viable for QuickBooks users.

Improved end–user experience – Since cloud hosting allows software programs to be accessed quickly and easily from anywhere, users will have the freedom to work anytime anywhere. 
This makes it possible for business owners to easily access important information even when they are traveling or are on a vacation. Undue delays can be prevented, and team collaborations become a lot easier. 
Better productivity – Accounting often involves a number of approvals before a sale or a purchase is completed. With QuickBooks cloud hosting, a person can approve a document even when they are not in the office. This ensures that a piece of work can be completed with the least of delays. 
As a result, productivity increases, and your accounting team can invest more time doing their work rather than waiting for approvals. 
Easy accessibility – Accessibility is the key for anyone who plans to take their QuickBooks software program to the cloud. This is the biggest advantage of using cloud hosting services. Users can avoid visiting the office on their day off simply because an urgent document on QuickBooks needs to be accessed. 
Round-the-clock support – QuickBooks offers 24/7 support for QuickBooks for its users through phone on QuickBooks hosting support at +1-888-727-4587, email, and chat. 
In addition to this, you must also choose a hosting provider that provides round-the-clock support. This will ensure that your accounting team can rely on technical and customer support anytime they face a problem with QuickBooks or the server.  
Data security – Cloud hosting providers have a strong security system in place to ensure that your data is safe and secure. They have the ability to spend a significant amount of money on security because cloud hosting is their core work. Greater security is important for them to maintain their market reputation and ensure that the clients do not suffer data breaches. Since this is not your core work, the security of locally stored data may not be as high as the level of security provided by cloud hosting providers.  
Disaster recovery – Disaster recovery is a lot easier since the data is saved on cloud servers and may usually have multiple backups based on the cloud hosting provider's terms. In the absence of cloud hosting, disaster recovery could be a tedious task. Sometimes you may even end up losing important work.  
How QuickBooks Desktop Hosting changed the user experience?
Cloud hosting for QuickBooks has enabled better accounting for small and medium businesses who want to be able to access their business information on the go. The benefits of using QuickBooks cloud hosting service has made many business owners move to the cloud.
 Any problems or concerns in using QuickBooks cloud hosting usually stems from the quality of the internet being used. Your dependence on the internet will increase if you plan to host QuickBooks on the cloud. You must also research the cloud hosting providers to choose those that provide adequate features and a strong support system. It is almost important to pick providers who have been approved by Intuit.  
Additionally, there are times when there may be server outages. If this happens, you must be prepared for it and your team should be prepared to handle accounting when there is a server outage. These can be considered some areas of concern for users of the QuickBooks cloud hosting service.  
It is always good to know the problems you may face and the benefits you would enjoy before you decide to proceed with the service or not. 
There are several cloud hosting service providers who have built a good market reputation for themselves. These are the ones you must consider for QuickBooks hosting. 
QuickBooks Cloud Hosting FAQs
What is hosting in QuickBooks?
QuickBooks hosting means your QuickBooks desktop is installed on a virtual computer so that you can access your application from anywhere.
How much does it cost to host QuickBooks?
It depends upon the number of users & other factors. You can connect with QuickBooks hosting support to know more i.e. +1-888-727-4587.
How do I set up QuickBooks Hosting?
Get in touch with a QuickBooks expert or your hosting provider expert to set up QuickBooks hosting.