How to Fix QuickBooks Error Code OL-232
QuickBooks Error Code OL-232 usually occurs while updating the bank account using online services. This QuickBooks error arises due to an internet connection problem, and the bank information is not updated, etc.
Why does QuickBooks Error Code OL-232 Occur?
Temporary problem with the bank's server

Internet connection problem

Using an outdated version of QuickBooks or Windows

Issues in the company file
Steps to Perform Before Fixing Error OL-232
Contacting the Bank
We suggest you contact your bank before trying any solution because there is a chance that they are working with their website or server, and this could be the reason for facing this error on the QuickBooks application. In case they are having some issues, you need to wait for 24-48 hours.
Creating Backup of Company File
Create a local backup of QuickBooks company file
Open QuickBooks Application

Go to

File > Back Up Company > Create Local Backup

Follow the instructions on your screen for creating a backup
Update QuickBooks
Update QuickBooks Desktop using the integrated update manager.
Open QuickBooks Application

Click

Help > Update QuickBooks

Find and open the

Update Now

tab and tap on

Get Updates

Close the application once the update is complete
Steps to Fix QuickBooks Error OL-232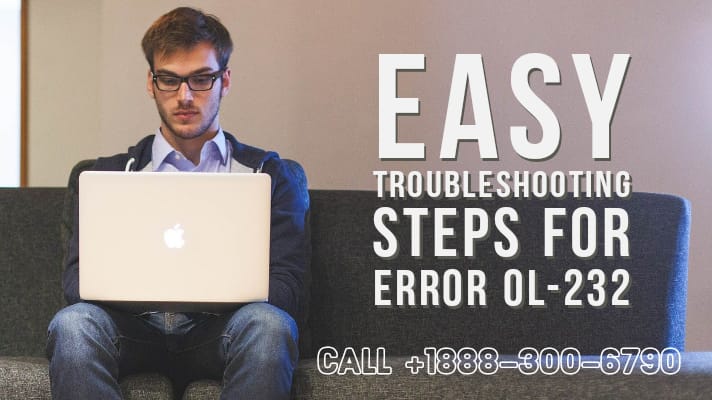 Step 1: Deactivating and Reactivating Bank Feeds
Deactivating Bank Feed
Open

List > Chart of Accounts

or press

(CTRL+A)

on your keyboard

Find the accounts from the list that are causing the error and Right-click on the account(s), and then select

Edit Account

Open

Bank Feed Settings

Choose

Deactivate All Online Services

Save and Close
Reactivating Bank Feed
Open

List > Chart of Accounts (CTRL+A)

Find the deactivated accounts from the list and right-click on them to

Edit Account

Tap on

Set Up Bank Feeds

and then click

Yes

to automatically close all open windows of QuickBooks

Enter the bank(s) on the next screen and click

Continue

On the next window, you will need to enter your

Username and Password

of your bank and choose

Connect

It will take some time for QuickBooks to fetch your bank account(s) and then

Link

the account(s) with a respective existing account

Tap

Next

to proceed
Step 2: Running Verify and Rebuild Utilities
Running Verify Utilities
Use QuickBooks Verify data tool.
Open

QuickBooks Application

Tap

File > Utilities > Verify Data

Tap

OK

and close all the open windows

Click

OK

if QuickBooks doesn't detect any problem with the data

Click

Rebuild

if QuickBooks detects some issue with the data
Running Rebuild Utilities
Tap

File > Utilities > Rebuild Data

Tap

OK

and choose

Save

for creating a backup

Click on

View Results

once the rebuild is done

If there are 0 issues, please follow the further steps mentioned below

If there are some issues in your data, you can consult with the experts
Step 3: Creating a Test Company File
The purpose of creating a new test file is to figure out if the problem is with your company file or bank. Follow the below steps for creating a new company file:
Tap

File > New Company

Tap

Start Setup

and

Skip

Provide the required information and then click on

Create Company

QuickBooks will require some time to create a new company file

Once the setup is done! Click on

Start Working

Now you need to add the bank account to the test file
If you are able to download the bank transactions after creating a new test file, there is some problem with your primary company file. You can call QuickBooks experts for more troubleshooting.
However, if you cannot download the bank transactions in the test file, it means your bank will need identity verification or they are making some changes to their website or server.
Step 4: Enabling TLS 1.2 Security Protocol
Open Run box by pressing

Windows + R

Type

INETCPL.CPL

and press enter to open Internet Properties

Go to

Advanced Tab

Scroll down and find the security section

Uncheck the box that says

Use TLS 1.0

and check the box that says

Use TLS 1.2

Click on

Apply

and

OK

to exit

Restart your computer to apply changes
Contact QuickBooks Desktop Experts to Repair E

rror Code ol-232 QuickBooks
These steps will help you to fix the QuickBooks error code OL-232. However, if you are still facing the problem after following the above mentioned steps, you will need to contact the QuickBooks Desktop Support Team, and they will help you to fix this issue.