Ultimate Guide to Fix QuickBooks Compile Error in Hidden Module
QuickBooks is one of the fastest-growing SMB accounting applications in 2023. It is widely used by SMEs to manage their financial transactions. However, sometimes QuickBooks users may come across QuickBooks Compile Error in Hidden Module when trying to export data to MS Excel or accessing pre-defined report features.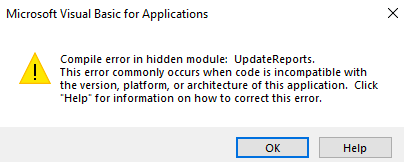 Compile Error in Hidden module QuickBooks can be frustrating as it won't allow Excel options to work in QuickBooks. Generally, the root cause of this problem is when there are MS Excel add-ins that are not compatible with the version of your QuickBooks desktop. Let us show you how to repair QuickBooks Compile Error in Hidden module step by step in this troubleshooting guide.
What does Compile Error in Hidden Module mean?
When QuickBooks desktop user generates the report for their clients or for analytics. During the compilation of data into excel, the software detects that there are some components missing or incompatible with the current version of QuickBooks. This prevents the software to function and it displays the "Compile error in hidden module" error message.
Causes of Compile Error in QuickBooks
There can be various reasons that can cause QuickBooks Compile Error in Hidden module. Some of the primary causes are mentioned below:-
Corrupted QuickBooks Data file
Incompatible Add-ins in Excel
Microsoft Excel components are missing
Older version of QuickBooks desktop
Recently Upgraded Excel and still working on the old version file
MS Office Installation is damaged or corrupted
Solutions to Repair QuickBooks Compile Error in Hidden Module
Solution 1 – Find, Replace, or Remove Hidden Modules in Excel
Launch Microsoft Excel
Press ALT + F11 to open VBA Editor
Get into the Visual Basic File Editor File and then choose Tools
Scroll down to References and then available references
Find and remove any module that says Missing or incompatible
Enable or Disable the module to fix the missing error
Restart Excel
Solution 2 – Update QuickBooks Desktop
To repair common QuickBooks compile error in hidden module is to update QuickBooks desktop to the latest version. To update QuickBooks, follow these steps:
Launch QuickBooks Desktop and click on the Help option from the top menu bar.
Select Update QuickBooks Desktop from the drop-down menu.
Click on the Update Now tab and Choose to Get Updates.
Wait for the update to complete first and restart the QuickBooks desktop.
Solution 3 – Repair Microsoft Office Installation
Go to the Control Panel from the Start menu.
Click on Programs and Features and select Microsoft Office.
Click on Change and then select the Repair option.
Wait for the repair process to complete and restart your system.
Solution 4 – Re-register the .DLL file in QuickBooks
The next step is to re-register the DLL file. To do this, follow these steps:
Click on the Start menu and select Run.
Type "regsvr32.exe /u C:\Windows\System32\MSCOMCTL.OCX" and press Enter.
Type "regsvr32.exe C:\Windows\System32\MSCOMCTL.OCX" and press Enter.
Restart your computer.
Also, Download QuickBooks Import CSV & Excel Kit
Solution 5 – Disable MS Office Add-ins
The last step is to disable add-ins in Microsoft Office. To do this, follow these steps:
Launch Microsoft Office and click on File.
Select Options and then click on the Add-Ins option.
Select COM Add-ins from the Manage drop-down list and click on Go.
Uncheck all the boxes and click on OK.
If you want to disable any particular add-ins i.e. corrupted or required to be removed.
Select the Add-ins and click on Disable
Restart Microsoft Office.
Contact QuickBooks Error Support
If the above-mentioned troubleshooting steps do not help you resolve QuickBooks compile error in the hidden module. Get in touch with our QuickBooks error support team via Call or Live chat. Get compile error in QuickBooks desktop resolved immediately and hassle-free