Repair Desktop Errors using QuickBooks Component Repair Tool
QuickBooks Desktop for Windows can face various troubles related to the Windows component if it is damaged or missing. As windows component files play a vital role in the installation & execution of a Windows application like QuickBooks desktop. If you face any kind of installation or update errors in QuickBooks like Error 1935, 1603, 1402, 1720, 1903, 1904, MSXML, C++ errors, etc. Use the QuickBooks component repair tool to fix QuickBooks desktop missing or corrupt component errors.
Steps to Consider Before Using Component Repair Tool
Some recommendations to troubleshoot installation errors before using the QuickBooks component repair tool:-
Use QuickBooks Tool Hub
Download & Install the QuickBooks tool hub to fix installation errors using the Install diagnostic tool for Windows.
Choose QuickBooks Install Diagnostic Tool to start the scan to fix damaged installation files of the QuickBooks desktop
After the scan is finished, if the error still persists move on to the next step.
Update Windows
Update windows to the latest version and restart your computer after finishing the update
Go to Start
Choose Settings
Click on Update & Security
Windows Update
Click on Check for updates
How to use QuickBooks Component Repair Tool
If the error is not repaired by the QuickBooks tool hub or by updating windows to the latest version. Use QuickBooks Component Repair Tool to repair Windows component damages.
QuickBooks Component Repair Tool Download
Here is how to download and run the component repair tool.
Click on the highlighted link to download the repair tool
http://dlm2.download.intuit.com/akdlm/SBD/QuickBooks/QBPDF/QuickBooksDesktopInstallDiagnosticTool.exe
Save the local storage location you want to install the tool
Run the tool by clicking on the icon created on the desktop screen after the installation
Ensure there are no QuickBooks applications or processes running in the background
Click on Start to scan damaged or missing Windows components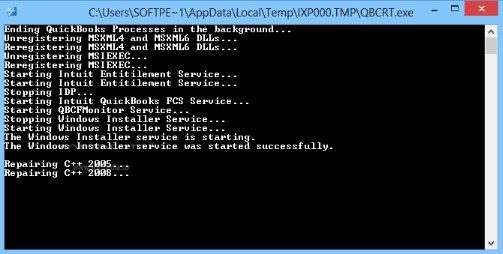 You will see different windows opening and the repair can take up to 30 minutes
After the scan is finished check if you are still facing errors due to missing or damaged components.
Repair Windows Components Manually
If the tool does not repair the error. Manually repair Windows components that are missing or damaged in your system.
Register MSXML DLL files
Click on Start
Navigate to Command Prompt
Run cmd as an administrator
Type cd\windows\syswowXX (XX refers to 32 or 64-bit operating system enter the value according to your system configuration)
Type regsvr32 MSXML6.dll
Hit Enter
Try installing QuickBooks and check if you still face the installation error. If yes move to the next step
Download & Repair MSXML Files
Download MSXML.MSI installation file and store it on local storage
Download Link – https://www.microsoft.com/en-us/download/details.aspx?id=6276
Windows 7,8 8,8.1 or 10
Navigate to Start and type msiexec.exe /fvaum "%username%\desktop\msxml.msi
Click on Run and complete the installation to repair the file
Try installing QuickBooks desktop and see if you still receive an installation error.
Use QuickBooks in Selective Startup
Prepare to Start your computer in Selective Startup Mode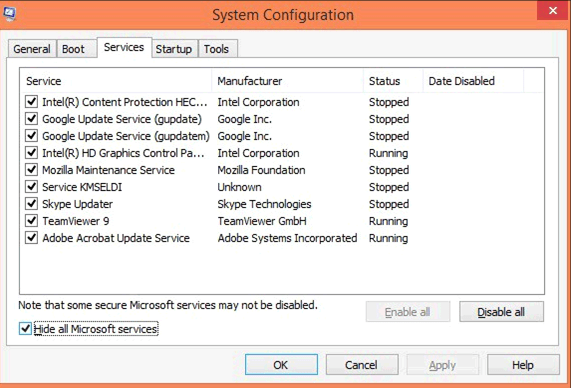 Navigate to the Run option in the start menu
Type MSConfig & click on ok
Go to the General Tab
Click on Selective Startup & Check Load system services
Then go to the services tab
Click on Hide all Microsoft services
then click on disable all
Uncheck the Hide all Microsoft services
Ensure the Windows installer is checked, if not manually check the box and click on okay
Now restart your system from the general tab of the system configuration
Install QuickBooks desktop to check if you still see the installation error.
Contact QuickBooks Desktop Support
If you are unable to fix QuickBooks installation errors using the QuickBooks component repair tool. Connect with our QuickBooks error support agent at +1888-727-4587 and get the issue resolved within no time.