Error – Your QuickBooks subscription has lapsed – what is this error and how to fix it?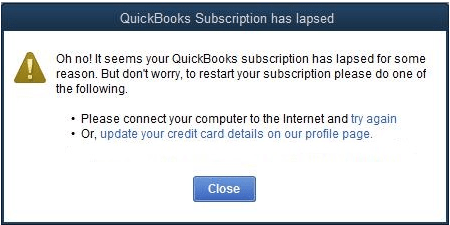 Have you been prompted with the QuickBooks error "QuickBooks Subscription Has Lapsed" or "it seems your QuickBooks subscription has lapsed for some reason?" Here is a small guide for you to learn about the error and how to fix it:
What is "it seems your QuickBooks subscription has lapsed for some reason"?
Subscribing to QuickBooks offers the users a temporary license to use the software. QuickBooks often fails to authenticate the subscription prompting the error "QuickBooks Subscription Has Lapsed". As soon as you get this error you will be unable to use QuickBooks software.
The error message reads as follows: "Oh no! It seems your QuickBooks subscription has lapsed for some reason. But don't worry, to restart your subscription please do one of the following.
Please connect your computer to the internet and try again

Or, update your credit card details on our profile page"
The error message suggests that you update your credit card information and check your internet connection to fix the error. However, these steps don't work for all, and additional troubleshooting is required to fix the error. You must first understand some reasons that may cause this error to be displayed.
Although an expired QuickBooks Desktop subscription is the main reason why QuickBooks may prompt you with this lapsed error message but some other reasons may cause this error:
The version of QuickBooks you are using has been discontinued by Intuit

The QuickBooks Desktop application is outdated

Network issues that may be caused because of problems with routers or misconfigured internet browser

Credit card information is wrong or outdated because of which QuickBooks is not able to renew your subscription

Errors in installing QuickBooks can also cause QuickBooks to encounter errors in verifying your subscription
Troubleshooting Steps for QuickBooks Subscription has lapsed error
Here are some steps that will help you fix the QuickBooks lapsed error:
Update Your Credit Card Information in CAMP
QuickBooks requires that the users save their credit card information which it uses to auto-renew their QuickBooks desktop software account after the completion of a year.
For some reason, if you have changed your credit card and you forget to update the new details in QuickBooks then the auto-renew fails and you are prompted with the QuickBooks lapsed error.
You must update your payment information in CAMP, this may fix this error. Here is what you need to do:
On your choice of browser go to

https://camps.intuit.com/

Sign in with your QuickBooks account and select Product

Open Product Details and click on Billing Information

Next, click on Edit and fill in your recent credit card details

Click on Save and Continue

Now go to QuickBooks so the license can be synced

Go to Help and click on Manage My QuickBooks License

Select Sync License Data Online to complete the sync process
This will have fixed the problem. If the error persists you can try the next solution.
Delete the Damaged QuickBooks Entitlement File
The QuickBooks Entitlement Data Store (.ecml) file is where the information about product registration is saved. If for some reason the file is damaged then QuickBooks will be unable to read and verify your subscription to QuickBooks.
If you delete this damaged file then QuickBooks will create a new file and fix the error. Here is what you need to do:
Exit and close the QuickBooks application

Right-click on the Taskbar at the bottom of your desktop and select Task Manager

Go to the Processes tab and look for the QBW32.exe file. Right-click on this file and click on End Process Tree

When prompted click on Yes to confirm

Open the Windows File Manager

On your desktop go to drive C:>ProgramData>Intuit>Entitlement Client> v folder. Look for the Entitlement Data Store.ecml file and delete it

Open QuickBooks and register the application once again
Check if the issue has been fixed. If not, proceed with the next solution.
Install the latest version of QuickBooks Desktop to fix the subscription error
Not having the latest version of QuickBooks can invite a myriad of errors including the QuickBooks has subscription lapsed error. Installing the latest QuickBooks updates can help fix these errors and improve its routine functionalities. Here is how you can update your QuickBooks.
Open QuickBooks on your desktop

Go to Help

Click on Update QuickBooks Desktop

A new window with an option to Update QuickBooks will open

Click on the Update Now tab – you must make sure New Features, Essentials, Accountant, Help, and Maintenance Releases options are selected

Next, click on Get Updates

Wait for the updates to download

Once done restart your QuickBooks Desktop application

QuickBooks will prompt a message showing that the version has been updated and whether you would like to install it

Click on Install Now to permit the latest version of QuickBooks to be updated

When the installation is complete, run QuickBooks and open the company file to see if the error is resolved.
Contact QuickBooks Desktop Error Support
Follow the above steps to resolve the QuickBooks Subscription Has Lapsed Error. In case you need help from a QuickBooks expert. Get connected with elite QuickBooks desktop support experts at +1888-727-4587 for quick error resolution & support.
Related Articles about QuickBooks Subscription