Intuit provides QuickBooks updates from time to time, which are available over the Internet or at the QuickBooks Download Center. To improve the QuickBooks user experience and fix bugs, Intuit launched QuickBooks updates for its users. These updates are also known as the latest maintenance releases or QuickBooks patch files.
Intuit is significantly improving the customer experience of QuickBooks users to simply accounting and enabling businesses to run smoothly.
Upgrading and updating QuickBooks are two different terms, QuickBooks users should not confuse themselves with these terms. The upgrade means switching to a newer version (for example – QuickBooks Desktop 2021 to QuickBooks Desktop 2023 and the Update means updating QuickBooks to the latest release (for example:- QuickBooks 2023 R1P to R3P)
Find Out If you have the Latest Release for your QuickBooks desktop
Run QuickBooks as an administrator and click the F2 key to see product information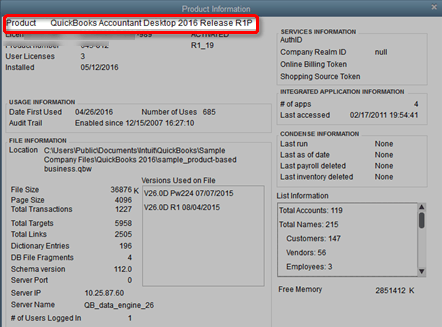 Types of Methods to Update QuickBooks Desktop
QuickBooks can be updated using three different methods and an Internet connection is common in all these three methods.
Automatic Update

On-Demand Update Method
Release Download
Manual Update
Once QuickBooks updates are downloaded, The next time you restart the system QuickBooks will ask you to install the updates downloaded. In Multi-user mode for QuickBooks Pro, Premier & Enterprise, Updates are installed on every computer simultaneously
Update QuickBooks Using Automatic Update
Automatic Update is the default setting in QuickBooks, Intuit servers are connected to your QuickBooks and download the latest QuickBooks updates and releases automatically on your system. The updates are downloaded in the background no matter you are running QuickBooks or not.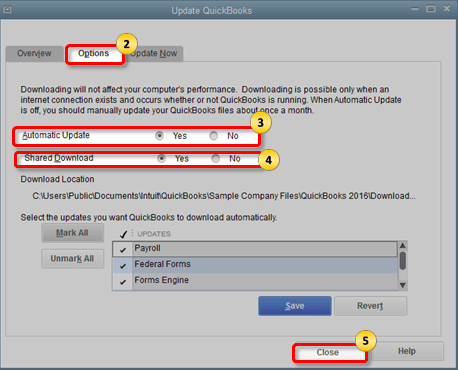 To Enable Automatic updates if QuickBooks is not downloading updates Automatically
Locate Help in the menu and click Update QuickBooks
Go to the Options tab in the Update QuickBooks window
Choose Yes to Enable and No to Disable
Save and Close
If your Automatic Updates are not working, Get in touch with the QuickBooks product support team for instant help.
Update QuickBooks Using Immediate Update Method
If you have disabled automatic updates or your automatic updates are not functioning properly, Use a quick update method for QuickBooks updates. Intuit recommends users check for updates monthly if they are using this method to download updates.
To check and download the updates for QuickBooks, follow these steps:
Locate Help in the menu and click Update QuickBooks
Go to the Update Now window
Select all the updates that you want to download and select Get Updates
After downloading and installing updates, Restart your computer. The maintenance release does not install automatically, you will get a prompt to install them when you reopen your QuickBooks.
Update QuickBooks Using the Release Download Method
If you are having trouble with the default QuickBooks update method or you do not want to install updates using the default methods. You can download and install the latest available updates for your QuickBooks from the QuickBooks Product download center.
Manually Update QuickBooks to the Latest Release
Go to Download and Updates Pages
Select the Product you i.e. QuickBooks Pro, Premier, etc
Select the Version i.e. QuickBooks Pro 2018, QuickBooks Premier 2018, etc
Search and Select Get Latest Updates, then click on Save to download the Updates
Install Updates and Restart the computer
If you have an active Payroll Subscription, Install Updates from the download center.
Install QuickBooks Update for Multi-User Mode in QuickBooks Pro & Premier
As mentioned above, If you are using QuickBooks in Multi-User mode download updates on each and every user to take effect. Follow the steps mentioned to download and install updates in Multi-user mode. These steps will allow you to download updates for each user.
Log in as a QuickBooks admin account on the QuickBooks desktop
Open the Shared Company File
Go to help and select Get Updates
Go to the Options Tab and Set the Shared Download Option to Yes
Contact Support for Information about QuickBooks Update or To Get Help
Contact a team of professionals who are available around the clock to help QuickBooks users with any concerns. Dial QuickBooks support phone number +1888-727-4587 to get instant help from QuickBooks experts via secure remote support.