What is QuickBooks Inventory Tracking?
QuickBooks is one of the best accounting software out there that comes with inventory tracking features. Though the software can check inventory seamlessly by using this QuickBooks Inventory Tracking, by default, this is disabled. If you enable the QuickBooks Inventory Tracking feature, besides tracking inventory, you will also be able to get alerts while reordering and creating purchase orders.
How to enable, add, edit & create QuickBooks Inventory Tracking
As a QuickBooks user, you can enable, edit, add, and create inventory tracking in QuickBooks Desktop easily. In this 101 guide learn everything you need to know about setting up QuickBooks Inventory Tracking.
What Are The Features Of The QuickBooks Inventory?
QuickBooks inventory comes with several unique and beneficial features. The following are some of the key characteristics.
It will allow you to see your inventory at a glance with custom images
It creates an organized product list that helps you to find exactly what you are looking for without any hassles and finish your reporting. With an organized list, you won't be confused among items.
The inventory quantities get automatically updated whenever the user purchases or sells products. You can now get a clear idea about what you are selling and what items you have to reorder.
It provides users with real-time inventory valuation so that they can keep all their financial statements updated.
QuickBooks inventory helps users to stay on top of purchase orders.
It allows users to keep track of every order from several vendors and see all the contact information for your vendors in a single place.
QuickBooks has an easy-to-use interface with the tools you are already using to track sales and expenses. As a result, users' businesses are easier to manage.
Also, How to Correct a Sales Receipt in QuickBooks
What Are The Inventory Items That Can Be Tracked?
With QuickBooks inventory tracking, you can check several items.
Inventories items
These items you purchase or sell and need to keep a check record of.
Non-inventory items
These are the items that are not usually tracked. You purchase or sell these items but don't track the record. For instance, you don't keep track of the bolts you use for installation.
Services
These are the survives you provide to your customers.
Budget
This includes a collection of the products or services that you usually sell together with QuickBooks inventory tracking, and you can now track all of these items seamlessly.
Enable QuickBooks Inventory Tracking
QuickBooks inventory tracking is one of the most beneficial features of Quickbooks, but it is also disabled by default. So, you have to enable it. If you are willing to enable QuickBooks inventory tracking, follow the steps mentioned below.
Enable Inventory Tracking By Quantity On Hand.
First, you have to select the gear icon, which will take you to the settings page.
Now, go to your company and select account, and go to settings.
Here, you have to select sales on the left side.
Here you will find a pencil icon next to product and services. Tap on that icon.
Here you will find two options, check quantity and price rate and check inventory quantity on hand. Tick on both.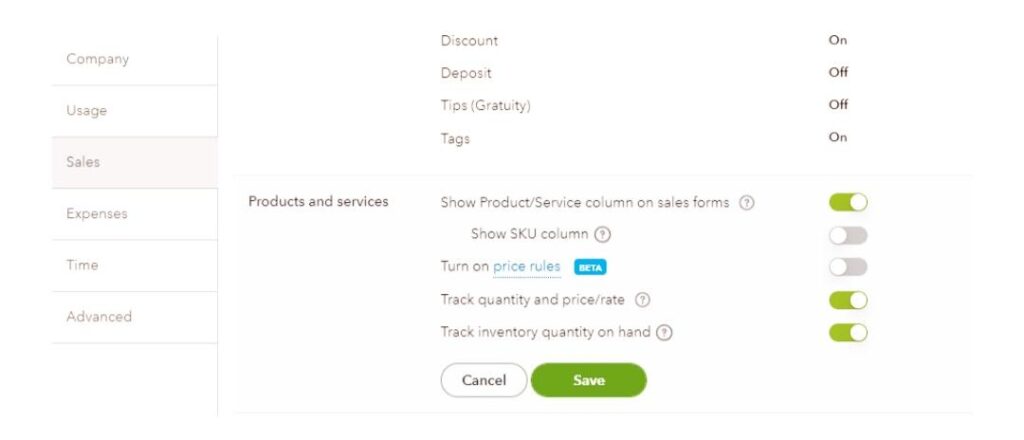 Now, when you select new under product and services, you will be able to see a new item type called inventory item.
Click save and then hit done.
Now you have enabled inventory and now you have to create your QuickBooks inventory tracking by selecting the product type. Keep following the next step of the article
Also, Check How to Fix QuickBooks Cannot Create PDF File Issue?
Create Inventory Tracking Items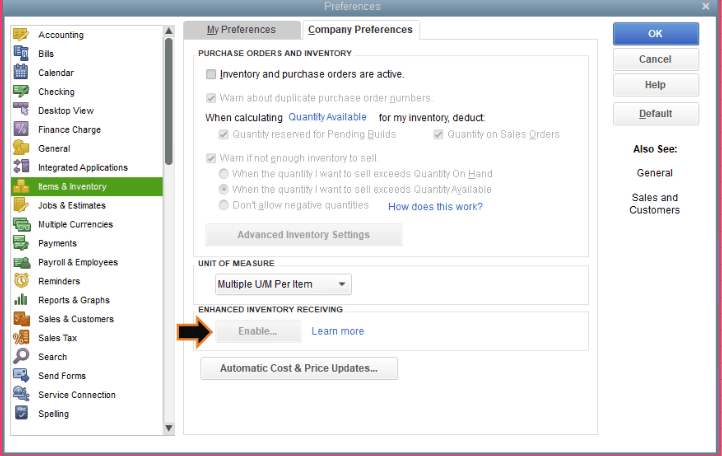 You have to keep a record of inventory items and other products and services that you sold. Follow the steps given below to create inventory items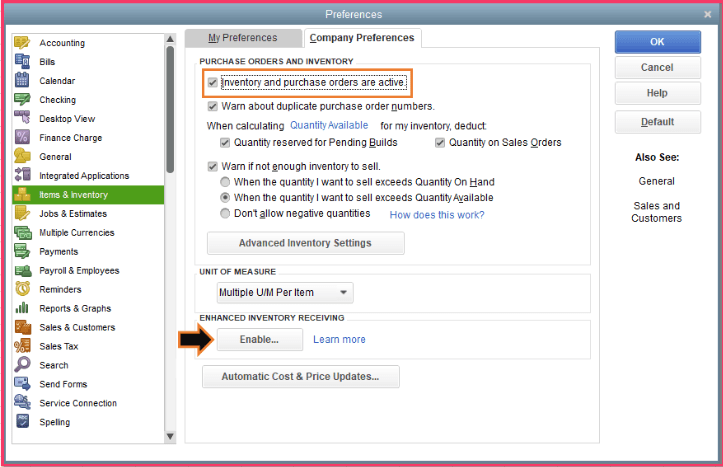 First, you have to go to the toolbar and select the gear icon.
From there, go to the list and select products and services, and there, choose new.
Select inventory as the type
Now you have to fill in the information mentioned in the product and services window.
You have to enter a valid name of the product or service wisely and you can also add a picture.
Enter SKU but make sure not to use an airy form template for SKU.
Select a suitable category from the Category drop-down menu and enter the initial quality on hand.
Enter when you have started to check the number of inventory items on hand in the date field.
Enter the minimum quantity of the inventory items you have in your stock in the recorder point field.
After that, go to the inventory asset drop-down and choose your asset account.
Complete the following optional field that includes sales information, sales price, and purchasing information.
Now, you have to go to the income account fields and select sales of product income.
In the expense account field, select the cost of goods you have sold.
Select save and close.
You have to continue the process until all the appropriate products have been marked on the QuickBooks inventory tracking process
Add Inventory Items to Products and Services
Now you have to add the inventory items to products and services that will allow you to see all your products and services with all essential information. Follow the steps mentioned below for doing that.
First, you have to select the gear icon and click Product and Services.
From there, click new and then click non-inventory or service.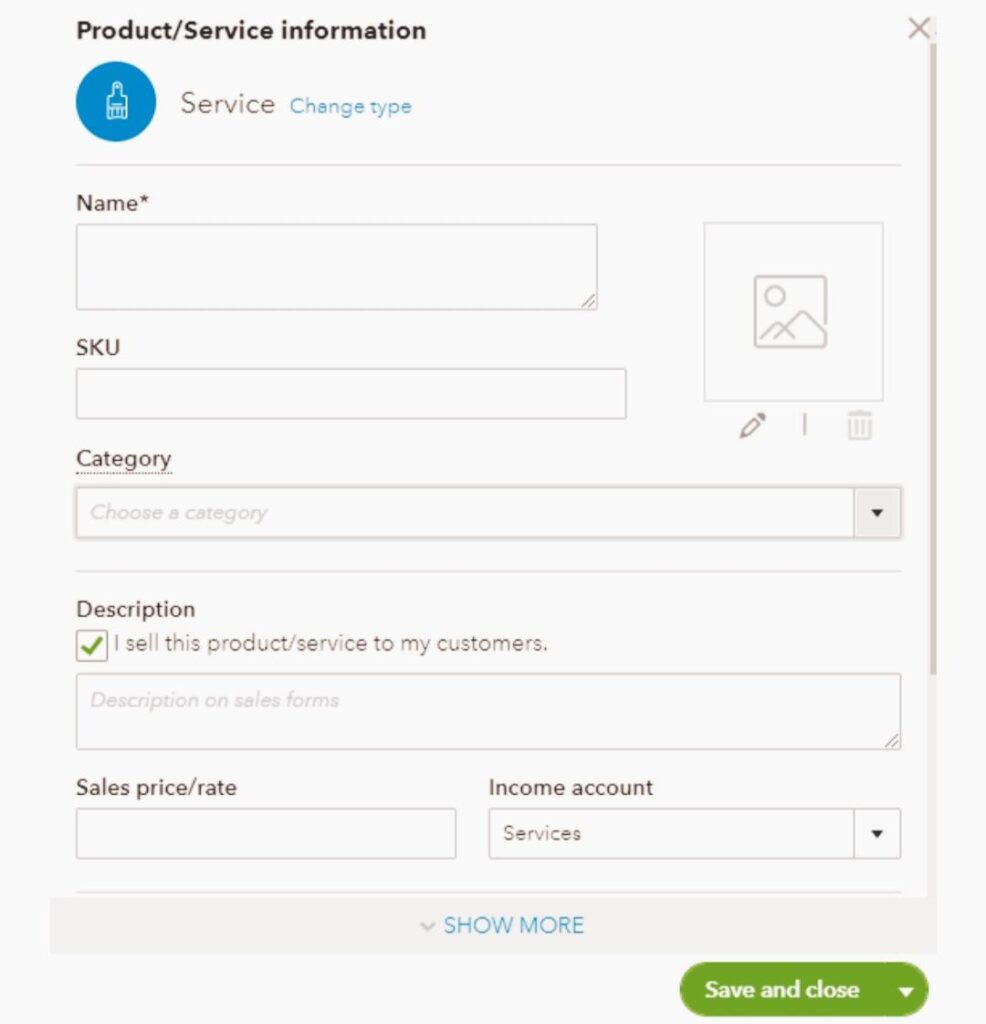 Now add a name and enter SKU for the product if you are willing to check SKUs.
Choose the most suitable category from the category drop-down and click on the "I sell this product/service to my customers" check box.
(Note– leave it unchecked if you don't sell them)
Go to the sales information section and enter the description. Remember, this will be visible to the customers on the sales form.
Enter the amount in the sales price or rate section.
(Note– if you have variable rates, leave that section blank).
From the account drop-down, choose the account you want to use to check the sell
Click the Income account drop-down and the account you want to use to track the sale.
(Note– if you are willing to add a new account, go to the top of that drop-down menu and click +Add new.)
Choose what you want to track from the category drop-down. For instance, if you are willing to check sales tax, click on that and find the best option if that item has any special tax rate available.
Click save and hit close. Now you're good to go.
Edit Products and Services
You can edit the products or services as an individual or as a group. Both methods are mentioned below.
Edit Individual Products Or Services
Click on settings and click Products and services.
Navigate to the product or service you want to edit and click on the edit option under the action column.
Make the required changes and when you are done, click save and close.
Edit By Batch
You have to place a checkmark in the box next to each item.
Now, choose the appropriate option at the top.
Here you can assign the items under different categories or make the items inactive and even change the type.
Contact QuickBooks Desktop Experts
With QuickBooks, tracking inventory is now easy and one can do that by simply following a few steps to keep a record of essentials. Hope this article was helpful to you and you have succeeded in enabling, creating, adding, or editing inventory on QuickBooks. If you need any assistance contact QuickBooks enterprise support experts at +1888-727-4587.
Frequently Asked Questions
Name A Few Things That One Should Consider Before Tracking Inventory On QuickBooks
One should consider Inventory valuation detail, Inventory Valuation Summary, Physical Inventory Worksheet, Sales by Product/Service Summary, Sales by Product/Service Detail, and Purchases by Product/Service Detail before tracking inventory on QuickBooks.
What Is The Adjustment Account For Inventory Adjustment? 
It is a special income statement account that reveals the company's goods sold. It is one of the accounts that are carried forward to the company's income statement and has importance.
What Can Things Be Changed With An Inventory Correction?
One can change only the value of the item, only the quantity of the item, or both of them in the correction.