What is QuickBooks Error: Server Busy?
QuickBooks provides various features to work in a collective environment to reduce the time and resources spent in managing the books. These features require certain updates and the exchange of data using a network. When QuickBooks desktop exchanges data in a Network in order to install an update or exchange data with another user. An ugly QuickBooks error server busy pops out on the QuickBooks desktop.
What is QuickBooks Server Busy Error?
A Server Busy message may appear if QuickBooks is unable to complete the data exchange process. There can be a number of causes of this error message. In a multi-user scenario, If you get a server busy error in QuickBooks then it means that the company file is in use by another user. Server Busy error occurs when your computer is unable to communicate with the application server.
High requests and responses in the application server may also lead to Server busy warning. QuickBooks Server Busy Error Appears to users as: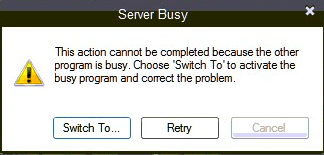 Error: Server Busy. This action cannot be completed because the other program is busy. Choose 'Switch To' to activate the busy program and correct the problem
Causes of QuickBooks Error: Server Busy
QuickBooks Error: Server busy can occur due to a various number of reasons, some of the causes are mentioned below:
Your system does not have enough memory to run the application
QuickBooks is conflicting with other applications installed on your computer
Security Firewall is blocking the application to exchange data in a network
The company file is in use by another user (In QuickBooks Multi-user Mode)
QuickBooks was not shut down properly when you used it the last time
User profiles are conflicting with each other due to country differences in the User profile location
A third-party security application is blocking QuickBooks to communicate with an application server
Your windows are updating in the background
There is a conflict between QuickBooks update manager and other computer application
Older QuickBooks desktop versions like QuickBooks 2010, QuickBooks 2011, QuickBooks 2012, etc are discontinued by Intuit
Troubleshoot QuickBooks Server Busy Error (Step by Step)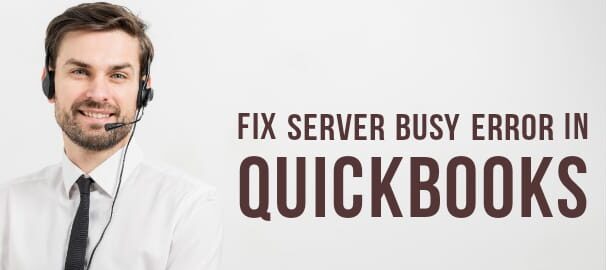 Repair QuickBooks Desktop in Windows 7, 8, 8.1 & Windows 10
Note down the QuickBooks server busy error you see on the screen and report it to QuickBooks error support to get updated solutions by Intuit QuickBooks experts to repair various QuickBooks desktop errors like Server busy.
Close all the running QuickBooks windows
Restart the system
Go to the start button and type control panel
In the control panel window, choose programs and features
locate QuickBooks and click on uninstall/change
Choose to continue and the next option
Select to repair your Quickbooks and let the repair process complete
Click on finish and restart your desktop
After restarting the desktop, Open your QuickBooks and download the latest release of QuickBooks desktop and download the latest tax table.
Run QuickBooks Install Diagnostic Tool / QuickBooks Component Repair Tool Working Explained
Download QuickBooks Install Diagnostic Tool
Save the File when prompted
Run QuickBooks install diagnostic tool to detect errors in your QuickBooks
Make sure QuickBooks and all background applications are closed
Tool Installation time depends upon system configuration and performance
Restart the computer after installation of the Quickbooks diagnostic tool to ensure correct installation
You need to re-register or reactivate your QuickBooks after installing this QuickBooks component repair tool
Download QuickBooks Install Diagnostic Tool
QBinstall Tool: Download Link
IMPORTANT THINGS TO REMEMBER BEFORE USING QUICKBOOKS INSTALL DIAGNOSTIC TOOL
Windows should be up to date
QuickBooks Registration required
QuickBooks Should be updated
End all running applications to avoid server busy error
Open your taskbar to check the running programs on your computer, end-all running tasks from the task manager, and reopen QuickBooks to check if you are still receiving the error.
Third-party security applications like anti-virus, spyware, anti-malware, google desktop, Avira, Norton, vista, etc should be disabled to bypass the QuickBooks server busy error message.
If you are running windows in selective startup mode, stop IntuitFCS from the task manager services tab.
Manually Update QuickBooks to the Latest Release
Go to Download and Updates Pages
Select the Product you i.e. QuickBooks Pro, Premier, etc
Select the Version i.e. QuickBooks Pro 2018, QuickBooks Premier 2018, etc
Search and Select Get Latest Updates, then click on Save to download the Updates
Install Updates and Restart the computer
If you have an active Payroll Subscription, Install Updates from the download center.
End running QuickBooks Services in Task Manager
Right-click on your taskbar
Select the task manager option
Choose the services tab
End all these below-mentioned services
qbpsevnt15r.exe
qbdagent.exe
qbpsevnt12r.exe
mrtmngr.exe
qbpsevnt13r.exe
qbpsevnt11r.exe
QBW32.exe
qbpsevnt08r.exe
support.exe
qbdagent2001.exe
axlbridge.exe
qbpsevnt09r.exe
qbpsevnt16r.exe
qbpsevnt14r.exe
qbpsevnt17r.exe
qbdagent2002.exe
qbupdate.exe
qbpsevnt10r.exe
qbpsevnt13r.exe
Remove the QuickBooks Update agent showing QuickBooks Server Busy error message from your system
Click on the Start button
Go to All Programs
Click on Startup
Locate the QuickBooks update agent and right-click on it
Click on Delete
Then click the Delete shortcut
Switch off Shared updates in QuickBooks
If ProSeries is installed on your system
While running QuickBooks open windows task manager
Locate qbpsevntXXr.exe on the services tab
Note the year date in XX of qbpsevntXXr.exe
Go to C drive and locate the Intuit ProSeries folder for that year
Open 32bit folder
Locate the file qbpsevntXXr.exe
and add .old to at the end of it for e.g. qbpsevntXXr.exe.old
Close and restart your application
Perform these steps under supervised guidance of local IT or QuickBooks expert to resolve Server busy error in Quickbooks
If you are running QuickBooks on a network then restart your system and reestablish your connection with your mapped drives
In case of a Security application blocking the Quickbooks update agent. Add QuickBooks to the exception list of your security application.
Get help from the network admin to check if any scan or sharing process is active on your network if yes then it may be the cause of the server busy error in QuickBooks. Let the scan complete or stop the process to get the QuickBooks server busy error to normal.
Start Windows in safe mode and start your QuickBooks then restart your system in normal mode.
Contact QuickBooks Professionals
Get rid of QuickBooks Error Server Busy with the help of QuickBooks desktop support. Get in touch with QuickBooks support experts and get secure remote support. Call our QuickBooks error support phone number to reach out to a QuickBooks desktop expert.