You may come across error 1334 in QuickBooks. QuickBooks Installation Error 1334 occurs when there is a missing or damaged component in QuickBooks desktop or Operating system files. Follow the instructions below to get rid of this error easily.
QuickBooks Error 1334 While installing, updating or repairing QuickBooks desktop
The following error message can be displayed in various formats. QuickBooks users usually come across this error code when they are trying to install, update, or repair their QuickBooks desktop. The error can be displayed to users as:-
Error 1334 – Error writing to file [file name]. Confirm/Verify that you have access to that directory.
Error 1334 – The file cannot be installed! Insert the QuickBooks Disc and retry.
How to fix QuickBooks Installation Error 1334
There are various ways by which one can resolve QuickBooks installation error 1334 in QuickBooks. It depends upon the scenario when the user saw the error message.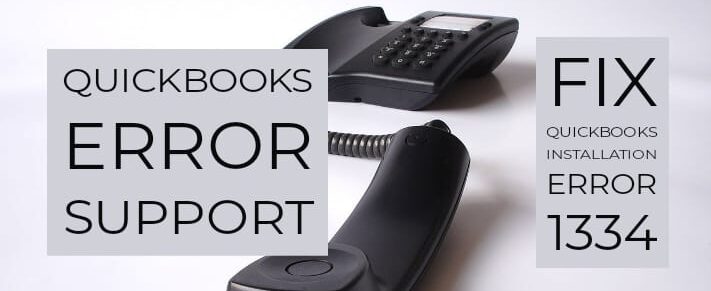 Below are the solutions according to the situation. If the below-provided troubleshooting steps don't work. Get in touch with QuickBooks support experts for help.
Scenario 1- If the error popped up while opening QuickBooks
Try to launch QuickBooks as an administrator or find the company file by .qbw extension and double click on it.
Scenario 2- Repair .Net Framework Files
QuickBooks desktop operates on .Net framework files that allow QuickBooks to run web apps. When .Net framework file is damaged or missing, QuickBooks pops up with QuickBooks error 1334.
You can repair this issue with QuickBooks Tool to repair installation errors. Repair this manually get in touch with a professional support expert to help
QuickBooks Install Diagnostic Tool to repair error 1334
Download QuickBooks Tool Hub
Follow all the instructions to install the QuickBooks tool hub
Double-click on the QuickBooks tool hub icon on the desktop
Navigate to Installation Issues
Click on QuickBooks Install Diagnostic Tool
A repair will automatically start and it may take up to 20-25 minutes
After its finishes, restart your computer
Scenario 3- Repair/Reinstall QuickBooks Desktop
Collect your license information for your QuickBooks product and then uninstall QuickBooks from the control panel completely. Go to Start > Control Panel > Programs > QuickBooks > Select Remove and Click on Next.
Repair QuickBooks Desktop in Windows 7, 8, 8.1 & Windows 10
Close all the running QuickBooks windows
Restart the system
Go to the start button and type control panel
In the control panel window, choose programs and features
locate QuickBooks and click on uninstall/change
Choose to continue and the next option
Select to repair your Quickbooks and let the repair process to complete
Click on finish and restart your desktop
Get Support for QuickBooks Installation Error 1334 by QuickBooks Experts
There are scenarios where it is hard for the user to resolve the error on his own. Additional support is required to troubleshoot complex tech problems. To get rid of QuickBooks error 1334 immediately get in touch with QuickBooks experts on QuickBooks error support helpline +1888-727-4587.