QuickBooks Error PS107 – Payroll Error in Desktop
QuickBooks is excellent accounting software, but it does pop-up errors at times, which can be frustrating. QuickBooks error ps107 is one such error that may arise while you are working on QuickBooks. There may be different reasons why this error code may occur on QuickBooks. Here are some details about this error and how you could solve them.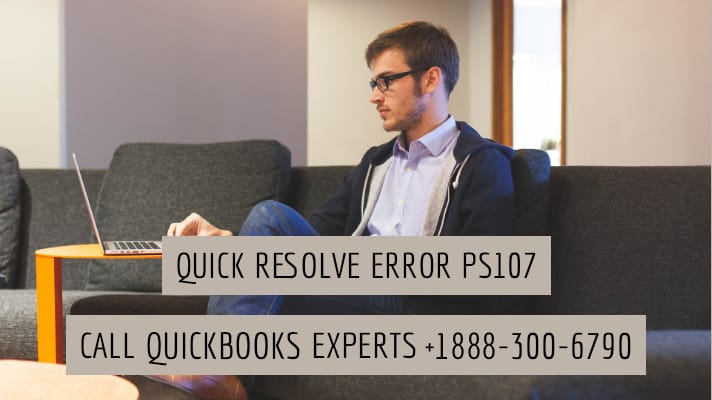 The main causes of QuickBooks Error PS107 in QuickBooks desktop are as below:
Error PS107 may happen because of the below reasons:
If you are working in an older version of QuickBooks Desktop, but a recent version has already been released by Intuit, then the PS107 error pops-up.

The error may arise if the membership status of QuickBooks has lapsed.

If QuickBooks payroll service is not updated or you are trying to get updates, but the server of Intuit is under maintenance, then you will get this error.

If there is a virus or malware in your Operating System, then you may get this error.

If the Inuit servers are down, then QuickBooks will flash QuickBooks error ps107.

If the data of the QuickBooks company file is damaged, then you may get the PS107 error code.

If the QuickBooks desktop software has been partially or erroneously installed then you will get the PS107 error code.
Since there are different causes of this error and you may be unable to identify what exactly is causing the error code PS107, there are different solutions that you can try. Follow the below instructions to solve the error.
Solution 1: Update QuickBooks Desktop to its Latest Version
One of the main reasons why QuickBooks payroll error ps107 arises is when you are using an older version of QuickBooks Desktop and Intuit has already released the latest version. Here is what you should do:
QuickBooks Desktop can be updated manually or automatically. If you have selected to update manually, then you must check for updates at regular intervals but if your settings are turned on to automatic downloads, then the installation will happen automatically.
Check for the Latest Release of QuickBooks desktop:
Go to QuickBooks Desktop

Open the Product Information window by pressing Ctrl + 1 keys or F2 key

The window will have the information about your version and the new release (if any)

Check if you have the latest one, if YES then you can proceed with the next solution if NO, then update to the latest version.
Download the Recent Updates (if Any)
Go to Help and select Update QuickBooks Desktop

Next, go to the Update Now tab

Click on Get Updates to begin the download process

Once the download is complete you must restart QuickBooks Desktop

You will be prompted to accept the option to install the new release
Schedule Automatic Updates for Future
In order to get all the recent updates automatically you can schedule QuickBooks to update:
Go to Help and select Update QuickBooks Desktop

Next, go to the Options tab

Beside Automatic Update select the Yes option

Next beside Share Download select the option according to your preference – if you wish to share the updated version with other computers in your network then select Yes else select No

Click on Close and exit – now all updates available from Inuit will be downloaded automatically
Manual Updates
If you have selected to download updates manually then here is how you can update QuickBooks Desktop manually:
Close the company files and QuickBooks

Go to the Windows Start menu

Search for QuickBooks Desktop and right-click on the icon to run as administrator

When you are on the No Company Open screen, click on the Help menu and click on Update QuickBooks Desktop

Next, go to the Options tab

Select Mark All just below 'Select the updates you want QuickBooks to download automatically' and then click on Save

Click on Update Now tab

Next check the Reset Update – this will clear any previous update downloads that were done

Next click on Get Updates

Once the update is completed restart QuickBooks Desktop and when prompted whether you want to accept the new updates then select Yes
Restart your computer and then check if the QuickBooks error ps107 is being prompted. If you find the error again, then you can try the next solution.
Solution 2: Use task Manager to Terminate QuickBooks Processes
Ending QuickBooks processes can also help in fixing this error:
Press Ctrl + Shift + Esc keys together to open task Manager

Click on the Processes tab

Select the QuickBooks processes that you wish to terminate

Click on End Process
Check to see if the problem is solved else you can move to the next solution.
Solution 3: Download the Latest Tax Table
Every time you make the monthly payment of your employees must update QuickBooks Payroll tax table. Users must have an active payroll subscription. Here is how you can download the latest tax table:
Use a CD to Update the Tax Table
a) Enter information about your service and delivery keys
If any users don't have or remember the service key, they can use their Intuit login details and sign in the Automated service and disk delivery key tool and then proceed as below:
Go to Employees

Click on Payroll

Enter your Payroll Service Key

Select Add on the QuickBooks Service Sign-Up screen

Now type in your Service Key and click on Next

Now you need to type in your Desk Delivery Key and then click Next
b) Install the updates from the CD
Insert the Payroll Update CD in the CD drive

Go to the Employees

Click on Get Payroll Updates

Click on Install Update from Disk

Click on Install
Once the updates are installed you will receive a confirmation message on your screen.
Use QuickBooks Desktop to Download Latest Tax Table
Go to Employees

Select Get Payroll Updates

Click on the Download Entire Update checkbox

Click on Download Latest Update and wait for the download to begin
Once the download is complete, a window will appear informing about the download being complete
Solution 4: Reinstall QuickBooks in Selective Startup Mode
If your QuickBooks Desktop software has not been installed properly or is corrupted, then you may face the issue of PS107 error. Here is another solution that can help you fix the error:
Start the System in Selective Startup Mode
Open the Run command by pressing Windows + R keys

Type "MSConfig" in the blank area and click on OK

Next, click on Selective Startup and then click Load System Services

On the Services tab and here click on Hide all Microsoft Services

Check the box to Disable all and uncheck the box which says Hide all Microsoft Services

Check to ensure that the box against the Windows Installer is checked and you can also check the list of services

Next click on OK

Select Restart in the Select Restart in the System Configuration window
Clean Install QuickBooks Desktop
Go Back to Working on Normal Mode
When QuickBooks is installed you can go back to working on your system in the normal configuration:
Press Windows + R keys to open the Run command

Type "MSConfig" and click on OK

In the General tab click on Normal startup

Click OK

Select Restart on the System Configuration window
Restart your system and now reinstall QuickBooks using a clean install. This usually tends to solve the PS107 error. However, if you still find the error code to be persisting then move to the next solution.
Solution 5: Switch to Single User Mode
Switching to single-user mode can also help in fixing the QuickBooks error ps107. Here is how you can do it:
Click on the File menu and then click on Switch to Single-User Mode

Now click on File menu once again and select Back Up Company

Select Create Local Backup and click Next

Select the folder in which you want to store the backup of the company file. This can be done by clicking on Browse and then OK

Look through the options on the page and if you want you can select what you like

Once you are done you can click on OK and then Next in the Create Backup Window

Schedule all future backups and select if you want to save the backup
https://smbdaily.com/quickbooks-error-ps101-dial-quickbooks-support-1-650-265-1773-help/
Contact QuickBooks Experts to Repair QuickBooks Error PS107
You can try the solutions mentioned above and check if the problem QuickBooks error PS107 is solved. If nothing works then, you can give us a call on +1888-300-6790. We have an experienced and knowledgeable team of QuickBooks 24/7 support executives who will ensure that your problem is solved. We give round the clock services, you can call us for help whenever you face any issue, and we will try to give you a solution over the phone or at the earliest.