QuickBooks Error PS077 When downloading Payroll Updates in QuickBooks
Have you been facing errors while installing, updating, or working with your QuickBooks payroll? If yes, then you're mostly experiencing the QuickBooks Error PS077. To be precise, this error occurs when you're updating the payroll tax table.
You'll know it because the error number always appears on the screen as [PS077] or [PS032] QuickBooks can't. read your payroll setup files.
Now, the plus point with this software is that you don't have to tolerate these errors for a long time. Neither are you supposed to waste further time and resources behind "getting it repaired".
That's because you can fix this by yourself. Perform instructions in this troubleshooting guide and you will be able to download the latest payroll tax tables in QuickBooks.
What is Quickbooks Error PS077?

This is a common error that occurs while using QuickBooks Payroll Desktop. When you try updating your payroll tax table or downloading payroll updates error PS077 pops up.
When this error occurs, you'll see 3 things happening when you try updating your payroll:
The update will fail.

Your computer will slow down.

QuickBooks will then hang and you'll receive a message box where the error number will appear.
Cause of QuickBooks Error PS077 While Updating QuickBooks Payroll
Before we get to the solution, you always have to keep in mind the possible root causes of the problem. For Error PS077, these are:
The payroll folder or tax table file could be corrupted or damaged

Your QuickBooks software license isn't registered

You probably need to update or rectify the billing information

Your QuickBooks company file could also be corrupted
How to fix QuickBooks Error PS077 – Payroll Update Error in QuickBooks?
The first thing you do is check whether your QuickBooks is registered and whether your billing information is correct and up-to-date. If any of these need to be done, your problem might be solved right there.
In case you're still facing QuickBooks payroll update error ps077, the corruption either lies in the company file, the payroll folder, or the tax table file.
Reinstall QuickBooks Desktop & Get Payroll Updates
First and foremost, take a back-up of the company file

Now, you close all the applications on the PC

Next, you open the Run window

Open the Control Panel and go to Programs and Features

Uninstall QuickBooks from here by selecting it (if you have multiple versions, click on the one that applies)

Once the Installation wizard open, you click on "Next"

Now, you click on "Remove" and hit "Next" again

You need to go online to get the QuickBooks update to the latest release

If your QuickBooks company file is on a server, you need to close all the workstations and then update the payroll there. This will update every other QuickBooks version available on the server

In case of one version of QuickBooks, you need to go for "QuickBooks clean install" and in case of multiple versions, you need to remove the other versions

Next, go to the QuickBooks update window

Download the latest version of the payroll tax tables now

Verify and rebuild the file to check if the error still persists
Install QuickBooks Desktop in Selective Startup Mode
Perform these steps to install QuickBooks in selective startup mode to install updates.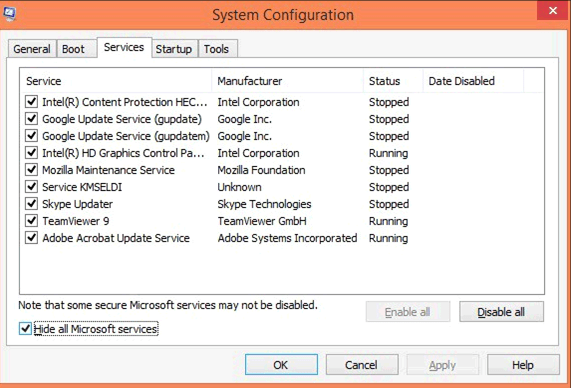 Navigate to run option in the start menu
Type MSConfig & click on ok
Go to the General Tab
Click on Selective Startup & Check Load system services
Then go to the services tab
Click on Hide all Microsoft services
then click on disable all
Uncheck the Hide all Microsoft services
Ensure Windows installer is checked, if not manually check the box and click on okay
Now restart your system from the general tab of the system configuration
Install or Uninstall QuickBooks Desktop

Run QuickBooks Windows Installer

Check on the box which says that you accept their terms of the license agreement and click on "Next" again

You now need to enter your QuickBooks license number and product number, which you'll access from your purchase receipt. Click on "Next"

The next window will ask you whether you'll be sharing your data files over a network or if this is the only PC where you'll be using it. Check on the appropriate option and click on "Next"

Now, you choose the location where you wish to install the software and click on "Next" again

Just click on "Install" now to start the process

So once it's finally over, you're ready to get started

Launch QuickBooks desktop
Go to Employees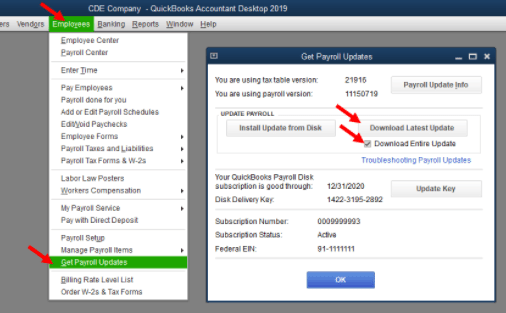 Click on Get Payroll Updates
Check Download Entire Update
Now Select Download Latest Update
Click Ok
After performing these steps, you will be able to update QuickBooks payroll. Once you are done with the update roll back to normal startup mode.
Contact QuickBooks Payroll Experts & Resolve QuickBooks Error PS077
Usually, QuickBooks error ps077 while updating QuickBooks payroll is resolved after a clean install which ensures that the folders and files are not corrupted, damaged, or had an incomplete update download.
If you are still stuck with Error PS077 call QuickBooks payroll support experts on +1888-300-6790 & get instant support for the error.