How to Fix QuickBooks Payroll Setup Error 00000 XXXXX
QuickBooks users can come across various errors while performing particular tasks in the accounting software. The error code is usually in the format of: 00000, XXXXX Series and can vary depending on the version of QuickBooks as well as what you are doing in Payroll. Ranging from 00000 00001-00000 99999, the QuickBooks Payroll Setup Error Code can also appear as an 'Unrecoverable Error'.
WHAT CAUSES QUICKBOOKS PAYROLL SETUP ERROR Code Series (00000,XXXXX)?
The above-mentioned errors generally occur when there is a special character in a file name in the Employee Center or Vendor, or in a timesheet. You may also get such errors in case the name of an employee gets duplicated.
You may come across a QuickBooks payroll setup error code series (00000,XXXXX) like:
00000 38049

00000 97340

00000 17002

00000 40370

00002 71328

00000 88579

00002 20123

00000 38772

00000 88703

00000 34289

00000 88703

00000 99867
Steps to Fix QuickBooks Payroll Setup Error 
Whenever you receive a QuickBooks Payroll setup error inside QuickBooks, follow the below-given steps to resolve the issue.
When the error message pops up, choose the 'View Report' option. This will bring up the details of the error in a new window.

From the file list in the window, find 'ReportHeader.xml' and double-click it. It should open up in your internet browser.

If the file does not open, check the file location and find and open it through Windows Explorer.

Once opened, press CTRL+F and type 'Exception String 0' inside the Find search box.
The statement that you see after Exception String 0 will help you find the exact location of the error so that you can fix it effectively.
Mentioned below are a few example scenarios of Exception String 0 errors to help you understand the reports better and fix the QuickBook payroll setup errors easily on your system.
EXAMPLE 1 – QuickBooks Payroll Error – File not found or Could not load file
This QuickBooks payroll error generally indicates that your copy of QuickBooks might have some broken files that need to be fixed. Try repairing QuickBooks Desktop via the installer or QuickBooks tool hub. If that does not resolve the issue, then you need to uninstall the software and do a fresh, clean install of QuickBooks Desktop to get rid of the error.
EXAMPLE 2 – QuickBooks Payroll Error – Value do not fall within the range
This QuickBooks payroll setup error can be quite confusing, but it is fairly easy to resolve. You may run into this issue if the entered value of a payroll item is higher than it should be. Check the employee setup and the payroll items for any changes or discrepancies that may be causing this issue. Even the change from cents to dollars or vice versa could be causing the issue.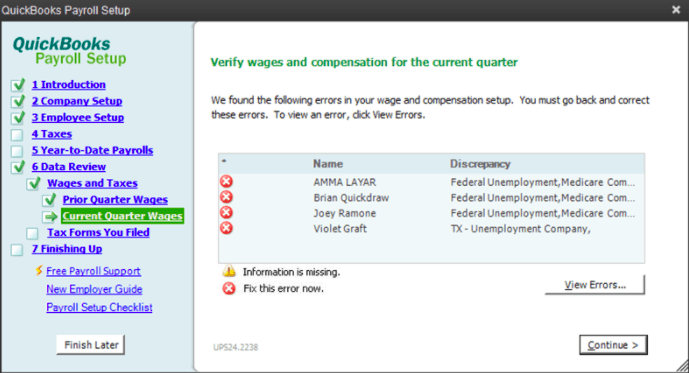 The QuickBooks PayRoll Checkup can help you in finding the value of the item that does not come under the range. You can then update it to solve the problem.
EXAMPLE 3 – QuickBooks Payroll Error – the specified account already exits
In the Employee Centre, if you leave the name of the employee blank or if there are special characters or extra spaces between the characters, it will cause this error. It may happen while choosing the Print on Check option while filling in the employee name.
To solve this error,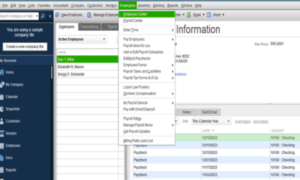 Select 'Employee' from the menu bar on the top and choose 'Employee Centre'.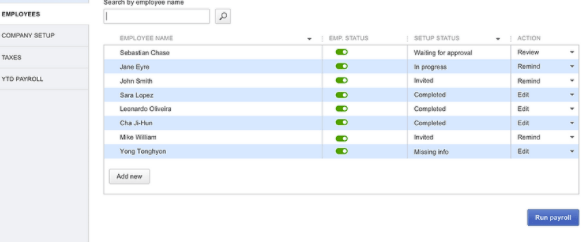 Click on 'View', then select 'All Employees' from the drop-down menu.
Review this list of employee names and look for any unnecessary spaces. Enter the employee names manually if needed (both the First and Last names).
How To Fix QuickBooks Payroll Setup Error 00000 34289, 00000 88703, 00000 99867
Some users might encounter the aforementioned errors wherein the report says 'System. Exception: exception thrown in a background thread —>' or 'System.ArgumentException: Value does not fall within the expected range'.
You can use the following solutions to resolve these errors.
QuickBooks Payroll Setup Error 00000 34289
This error occurs because a payroll item has been set at a percentage even when the item won't allow a percentage. Simply change it to the non-percentage to resolve this issue.
QuickBooks Payroll Setup Error 00000 99867
This error is usually caused by a blank 'State' field in the Employee Setup. You need to either select 'None' or select a valid state to fix this issue.
QuickBooks Payroll Setup Error 00000 88703
If the EE list contains employee names but you have left the employee's name fields blank in the Employee Setup window, you will run into this error. You can get rid of this error by simply filling up the names.
Contact QuickBooks Desktop Support Experts To fix QuickBooks Payroll Setup Error Code Series (00000,XXXXX)
If you are still having troubles with QuickBooks payroll setup error codes, get in touch with QuickBooks desktop support number +1888-300-6790 and they will help you resolve the issues in no time.