QuickBooks Error H202
In spite of remarkable features, the QuickBooks desktop has some setbacks which affect the financial management of a company or individual. High-end QuickBooks users tend to come across QuickBooks Error H202 in Windows Server 2012. Due to this QuickBooks is unable to read or locate the company file. Most commonly error H202 occurs in multi-user mode when a user tries to access the company file located on the server or another computer. We have also talked about QuickBooks error H202 & QuickBooks error H505 in the past.
QuickBooks Error H202 If you use Windows Server 2012 Essential R2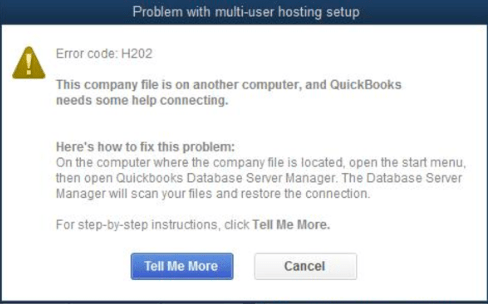 In this article, we are going to discuss QuickBooks error H202 if you are using QuickBooks server 2012 Essentials R2 with QuickBooks Enterprise desktop. Please be informed to use these steps only when QuickBooks Error H202 pops up and you use Windows server 2012.
Troubleshooting Steps for QuickBooks Error H202
Step 1: Check which server version you are using
Ensure the version of your Windows server before performing these troubleshooting steps
Go to the start button on your Windows server
Click on search and type settings
Open settings and select systems and then about
You will come to know about the version of the Windows server you are currently using
Step 2: QuickBooks Database Server Manager to fix QuickBooks error h202
Intuit developed QuickBooks to be a multi-user running application that allows multiple users to work at the same point in time. QuickBooks Database Server Manager (QBDBSM) is an essential utility that allows the QuickBooks server to function with multi-user access. If you have not installed the QuickBooks database server manager on your server, download and install QuickBooks desktop version you have on your server. QBDBSM helps you keep your multi-user network stable.
Perform the steps below to install the QuickBooks database server manager:-
Download Link: http://support.quickbooks.intuit.com/support/ProductUpdates.aspx#
Locate the QuickBooks installer on your computer and initiate the installation wizard
If your computer is connected to a network then click yes to download an update or no if you don't have an active internet connection
Click next after I accept all terms
Choose Custom and Network options
Choose your installation type whether you are using QuickBooks on the same computer or another, if you are using QuickBooks on another computer then you are required to enter your license number for the verification
After choosing the installation type click on Yes, Allow access
Click on all positive options and proceed further to set up your QuickBooks DataBase server manager
Step 3: Restart your Base Filtering Engine Service to repair QuickBooks error h202
When you are logged in to your server using admin rights. Use QuickBooks database server manager to scan your company files folder & restart Base Filtering Engine Service.
How to stop Base Filtering Engine Service
Click on the start button on your server desktop
Open run box and type services.msc & press enter
Locate Base Filtering Engine Service
Right-click on BFS and click on stop
If you see an error dismiss it and continue to stop the BFE service.
Use QuickBooks Database server manager to scan QuickBooks files
QuickBooks Database Server Manager will allow you to scan and monitor your QuickBooks company file stored locally, and then configure it for multi-user access.
Download & Install the QuickBooks tool hub to launch QuickBooks Database Server Manager
Choose Scan folder
If you are not sure of the company file folder location, you can scan the entire disk
Click on Scan and it will display all the files found on your server
The monitored Drive feature will keep QuickBooks Database Server Manager up to date as you add new files to the server. The monitored drive feature will help you to monitor all QuickBooks company files that were added, removed, or renamed in your local drive.
The database server feature is used to determine the number of company files connected to the server and the number of users logged in to each company file
QuickBooks database server manager status should be running when the server is hosting files, use the Service Administration tool to configure QuickBooksDBXX
The QuickBooks desktop update feature will allow you to update your QBDBSM
System feature will allow you to find system information where QuickBooks Database Server Manager is installed
Restart Base Filtering Engine Service
Open run box and type services.msc
Locate the Base filtering engine service
Right-click on it and start the service
If you see any error dismiss it and finish starting the service
Switch on Windows Firewall If not running Error H202
Open Windows firewall and choose properties
And select restart your firewall option
If you still see Error H202 after performing troubleshooting steps for the H202 error in QuickBooks. Get help from experts to fix QuickBooks error H202.
QuickBooks Tech Experts to Resolve QuickBooks Error H202 in Windows Server
If the above-provided troubleshooting steps do not resolve the error or you need expert guidance to resolve QuickBooks error H202 in Windows server 2012. Contact QuickBooks experts on QuickBooks support phone number +1888-727-4587.