What is QuickBooks Error 1603?
QuickBooks desktop Installer fails to complete the installation process and error 1603 occurs. QuickBooks error 1603 is caused by a damaged windows installer or QuickBooks desktop installation damaged. QuickBooks error 1603 is a .Net framework issue. Microsoft .net framework is a Windows component used by programs like QuickBooks to integrate with web applications. For installation errors, Intuit recommends the QuickBooks component repair tool to be the first troubleshooting step. To resolve error 1603 perform the troubleshooting steps given below.
QuickBooks Error 1603 appears as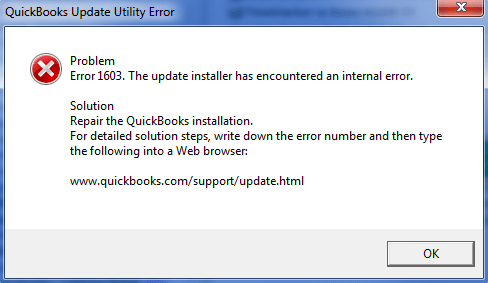 Error 1603: The update installer has encountered an internal error
Error 1603: There was a problem installing the Microsoft .NET Framework
Causes of QuickBooks Error 1603
QuickBooks version not compatible with Windows version
QuickBooks installer file damaged
Windows components are missing for e.g-.Net Framework file
QuickBooks setup file damaged
Troubleshooting Steps to Resolve QuickBooks Error 1603
Solution:1 – Download QuickBooks Install Diagnostic Tool to Repair QuickBooks Error 1603
QuickBooks Install Diagnostic Tool is created to automatically diagnose and resolve issues with Microsoft .NET Framework, MSXML, and C++.
Save the downloaded file to the desktop
Open QuickBooksDesktopInstallDiagnosticTool.exe
Select all positive options to initiate the repair process & complete the troubleshooting by the QBinstall tool
After the tool finishes the repair process, reboot the system.
Solution 2: Update the Windows version to the latest to resolve error 1603
Download and install Windows Updates.
Press the Windows key
Type Windows Update
Then, Select Check for Updates
Note:
Download & Check the Windows version's latest updates by clicking here –
Microsoft
.
Solution 3: Re-install QuickBooks from QuickBooks downloads
Solution 4: Repair .Net Framework manually to resolve QuickBooks error 1603
For Windows 8, 8.1 and 10
Open the Run Window
Type appwiz.cpl
Go to Uninstall a Program
Go to Turn Windows features on or off.
Verify .NET Framework 4.5  is enabled
Verify that .NET Framework 3.5 SP1 is enabled or not
Note: Enable .Net Framework 4.5 & 3.5 SP1 if not enable them. If they are already enabled uncheck the boxes and reboot the computer. Enable both the components again after reboot
Repair .Net Framework From Control Panel To repair QuickBooks error 1603
Go to the control panel
Locate .Net Framework (version)
Right-click on it and choose to repair
Finish the repair process & reboot your system
Contact QuickBooks Customer Service Support to Resolve QuickBooks Error 1603
Even after performing all provided troubleshooting steps error 1603 still persists. Get in touch with a QuickBooks expert to resolve the error. Dial QuickBooks support phone number +1888-727-4587 and get secure remote support for error troubleshooting.
More Installation Errors like QuickBooks Error 1603