QuickBooks Error 2753: The file qbserverutilitymgr.exe is not marked for installation
QuickBooks error 2753 is an installation error that occurs when the qbserverutilitiymgr.exe file is not marked for installation. This is a QuickBooks database server manager file. QuickBooks Database Server Manager (QBDBSM) is an essential utility that allows the QuickBooks server to function with QuickBooks multi-user access.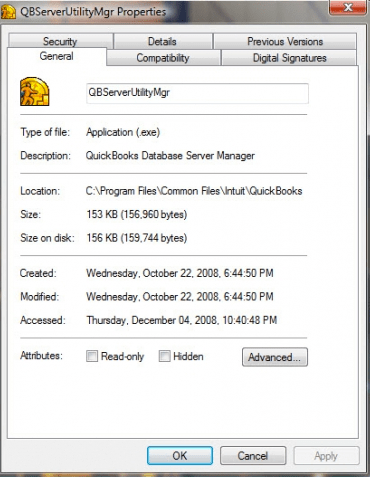 Due to the missing file QuickBooks Error 2753 occurs. In this article, we will help you resolve the error 2753 in QuickBooks. Perform the providing step by step instructions to get rid of error 2753.
Causes of QuickBooks Error 2753
There can be various causes of QuickBooks error 2753, identify your cause, and perform the troubleshooting steps to repair QuickBooks error 2753.
qbserverutilitymgr.exe is not available locally
The setup file is damaged
Installation is damaged
The data source is corrupted
The company file is in use by another user
Installation not done correctly
Troubleshoot QuickBooks Error 2753 (Step by Step Guide)
Solution 1: Run the Reboot.bat file to fix QuickBooks Error 2753
Go to Program files in your C drive
Open file by the name of Intuit
Select the version that you are using e.g. QuickBooks Enterprise Solutions 10.0 or Download QuickBooks Pro
Search for reboot.bat file and double click on it
After running the reboot.bat file it will restart your system and will make sure components of QuickBooks are registered properly
Solution 2: Clean Install QuickBooks Desktop to eliminate Error 2753
End all the running programs and restart your computer
Backup your windows registry and create a restore point in case of any failures
Search regedit.exe
You will be prompted for an administrator password, enter the password
Locate and back up the QuickBooks registry key
Export the backup file to any location
Open the control panel and uninstall QuickBooks desktop
End all QuickBooks services running in your task manager
Rename old Intuit folders as Intuit.old in your program files
Edit your windows registries by removing all registry entries like QuickBooksDB26, QuickBooksDB27 & QuickBooksDB28, etc
Restart your system
Install the QuickBooks and check for the QuickBooks database server manager on the server
Reboot the system and open the company file that you are working on
Reactivate or register your QuickBooks now
Go to the help menu on your QuickBooks desktop
Click on activate and follow all the steps thoroughly
Contact our Helpdesk to resolve QuickBooks Error 2753 Instantly
Get rid of installation errors like QuickBooks error 2753 via a secure system to system support. Call QuickBooks desktop experts on QuickBooks error support phone number +1888-727-4587.