We understand the annoyance when QuickBooks users come across unauthorized request error 401. QuickBooks Error 401 – Request Is Unauthorized appears when QuickBooks desktop users are trying to login into the desktop application or company file.
Welcome to our step-by-step guide on how to resolve or fix QuickBooks Error 401. QuickBooks error 401 can get its ugly head stuck on any version of QuickBooks desktop, be it Pro, Premier, or Enterprise.
What is QuickBooks Error 401?
QuickBooks Error 401 real-time snapshot:-
Login Failed – The remote server returned an error: (401) Unauthorized. The request is unauthorized. Do you want to log in again?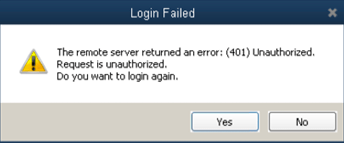 QuickBooks error 401 is an error that is related to the authentication of data exchange protocol between your QuickBooks and Intuit server. It highlights the request which is not authenticated by the server. The cause of QuickBooks error 401 can be due to incorrect credentials, incorrect installation, data file corruption, certificate revoked or expired, network misconfigurations, etc.
QuickBooks Error 401 usually happens when a QuickBooks desktop user is trying to perform an action as below:-
login to QuickBooks desktop account
login to QuickBooks desktop company file
login to QuickBooks desktop payroll or enhanced payroll
log in to a third-party application integrated with QuickBooks desktop
Sending invoices or reminders to clients
Sending accountant file
Root Cause of Error 401
The root cause for error 401 in QuickBooks desktop in many user cases is that your QuickBooks installation files are corrupt or outdated and you need to re-install or repair your QuickBooks desktop installation and ensure QuickBooks is updated to the latest release.
Repair QuickBooks Error 401 Step by Step
Troubleshooting QuickBooks error 401 is significantly important in order to resume the financial management of the company. Here are verified methods to resolve unauthorized error 401 in QuickBooks desktop.
Use QuickBooks Install Diagnostic Tool
Download & Run the QuickBooks Install diagnostic tool to ensure that your QuickBooks installation files do not have any problems.
You can also run the QuickBooks Install Diagnostic tool within the QuickBooks tool hub. Follow the instructions on how to do it:-
Close all QuickBooks windows
Download QuickBooks Tool Hub
Run file QuickBookstoolhub.exe
Choose on-screen instructions to complete the installation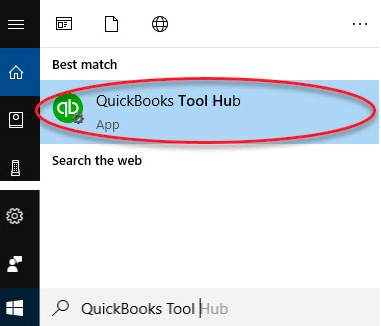 Locate the QuickBooks tool hub from the search bar
Launch Tool Hub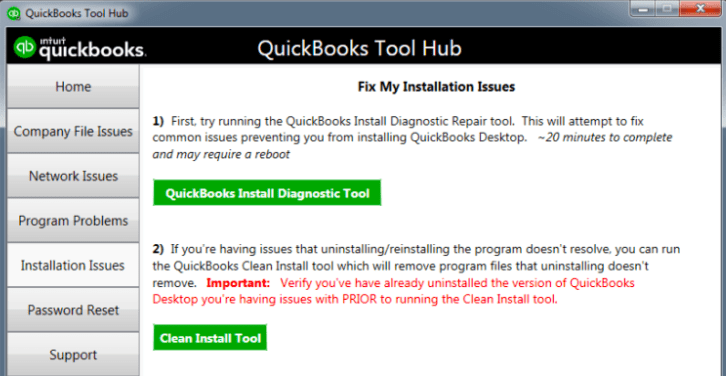 Click on Installation Issues
Select QuickBooks Install Diagnostic Tool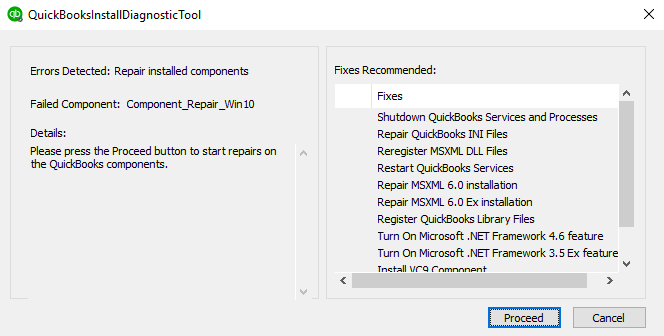 Click on Proceed to run the scan
Allow the tool to run & restart your system after the scan is finished
Verify QuickBooks Desktop Login Credentials
QuickBooks error 401 can also majorly appear when the user uses incorrect credentials to log in to QuickBooks desktop. If you have forgotten the username or password. You can set a new password using the QuickBooks password reset tool in the tool hub.
Clear Cache/Cookies of the default browser
Access your system's default browser. Navigate to privacy options and clear all-time cache and cookies.
Update QuickBooks Desktop
To get rid of QuickBooks error code 401, the QuickBooks desktop should be updated to its latest release. Here is how you can do it:-
Launch QuickBooks desktop as administrator.
Navigate to Help on the top menu.
Click on QuickBooks Update.
Choose all required options and click on Update.
Restart QuickBooks desktop after the update and check for error 401.
Disable third-party or unknown browser extensions
If you are experiencing the error 401 when logging into your Quickbooks desktop account. If you have any browser extensions on then disable them and try logging in to QuickBooks desktop again. Here is how to do it:-
Open Default browser.
Navigate to Settings.
Locate Extensions.
Disable the extensions.
Restart the QuickBooks desktop and try to log in to QuickBooks.
Contact QuickBooks Error Support
In conclusion, QuickBooks Error 401 can lead to time loss and getting late on your financial management tasks, but by following the above-verified troubleshooting steps by our support team, you can quickly overcome Error code 401.
If in case you need assistance from a proven expert on error code 401. Contact the QuickBooks Error Support team on the helpline mentioned above or click on the live chat support box below.
Frequently Asked Questions
What is Error 401 in QuickBooks desktop?
QuickBooks error is an HTTP status code error in QuickBooks desktop which indicates an unauthorized request by a user.
Does the QuickBooks tool hub repair QuickBooks error 401?
Yes, the QuickBooks tool hub repairs error code 401 easily. But in many cases, a user needs to perform other steps in order to get rid of the error completely.