QuickBooks Error C=43 – "can't read or incomplete transaction"
Intuit powered, marketed, and developed accounting software QuickBooks contains all the financial details of your company, its employees, vendors, and customers. Every now and then, it is possible that the software might become more of a discomfort and you might start seeing errors. In such a situation, you are restricted to access the information stored in its QBW file. At that point, it is necessary to fix the error immediately, so that you regain access to all the data stored and the software starts working properly again.
One common error that shows often than the rest of them is QuickBooks Error C=43 (unable to read transaction).
Causes of the QuickBooks error C=43
There is more than one cause behind the QuickBooks error C=43, they are as follows:
It is possible that error C=43 can occur by data damage or when QB tries to navigate a report or a report like data. If restarting the QuickBooks software and repeating the action does not fix the error and it persists again, then damaged data is the cause of QuickBooks error C=43.

QuickBooks error C=43 may occur when 1099 and W2 forms (V6.OD R1 [M-1477, L5203, C=43, V=2(2)) are printed.
Methods to fix QuickBooks error C=43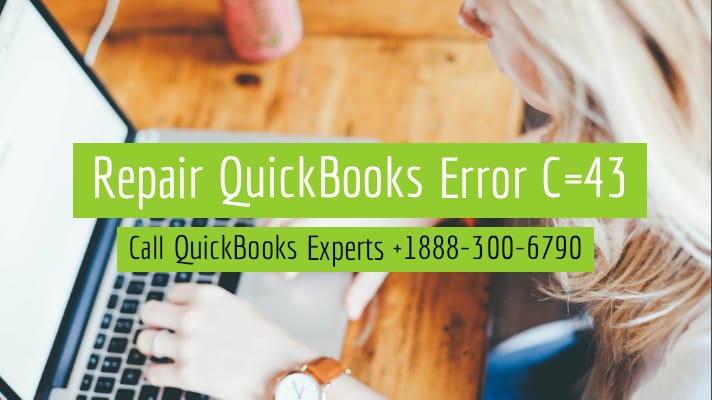 There are numerous ways to fix the QuickBooks error C=43, but particular methods have to be used so that all the corrupted QuickBooks files (QBW) are removed. These ways are as follows:
Use the "Rebuild Data" QuickBooks In-Built Function –

a function provided by the QuickBooks software is "Rebuild Data" which can be used to fix the Intuit QuickBooks error C=43. This function should only be used when the cause of the error is damaged data, or when the QB software ventures to ply a report or report like data.
Delete all OCR-A fonts and re-install QuickBooks –

to fix error C=43, delete all OCR-A fonts and reinstall QuickBooks. You must follow this method if the error occurs when; 1099 and W2 forms (V6.OD R1 [M-1477, L5203, C=43, V=2(2)) are printed.

Use a Result-Oriented Professional Tool –

the alternative way to fix QuickBooks error C=43 is through the use of a professional utility. The usage of third-party QuickBooks repair utilities is not encouraged because they are usually user-friendly and time-consuming. Also because they are majorly effective on severely corrupted QuickBooks QBW files or when the level of corruption in the company files is extremely high.
Other methods to repair QuickBooks error C=43
Many tools are available for fixing QuickBooks errors. Nevertheless, the key to fix QuickBooks error C=43 (unable to read transaction), is a professional utility named QuickBooks File Doctor that is renowned for its impeccable performance. The valid reason to choose this is its advantageous features which help incomplete removal of the errors in the QuickBooks software.
Features:
Recovers all records of the company, customers, vendors, and employees from the QBW company file.
Recovers paychecks, payroll transactions, and other details correctly.
Recovers all the data from the QuickBooks® back-up (QBB) files.
Provides a full review of QBW file data.
Generates log reports

containing all the details in the total of the QBW file repair process.
Supports multiple country editions, such as QuickBooks® UK, USA, Canada, Australia, New Zealand, Germany, and South Africa.
Also supports QuickBooks Simple Start, Premier, Professional, and Enterprise Editions.

Supports QBW files created in QuickBooks® 2018 till 2007 versions as well.
Contact QuickBooks Experts to Fix QuickBooks Error C=43
Built with numerous advantageous features that have been mentioned so far in this article, QuickBooks File Doctor is undoubtedly the best tool to fix QuickBooks errors including error C=43 (unable to read transactions). Using it can enhance your QuickBooks experience whilst also resolving any error at the same time. Contact QuickBooks technical support team now on +1-888-300-6790 for further details for QuickBooks data recovery or to fix QuickBooks Error C=43.