While running a financial exchange between QuickBooks Desktop and Point of Sale application, the occurrence of QuickBooks error 510 simply denotes the possibility of damage in the company data file. The error message accompanying the error code 510 can say something like 'Unable to return object' or '140116: QB customer lookup error: "Counter Sales".
What is QuickBooks error 510?
The QuickBooks accounting software is used for day-to-day accounting activities. This error code 510 stops the financial exchange between the QuickBooks software and POS application, thereby preventing the sales from getting recorded. These unrecorded sales will reflect losses in the various financial statements and degrade the company's value.
How to override QuickBooks error code 510?
The error status code 510 can pop up with two different messages, and troubleshooting them can vary based on that. For,
Steps to Fix QuickBooks Error 510: Unable to Return Object
To solve this issue, all company file data must be verified and rebuilt if required.
QuickBooks Verify Data Utility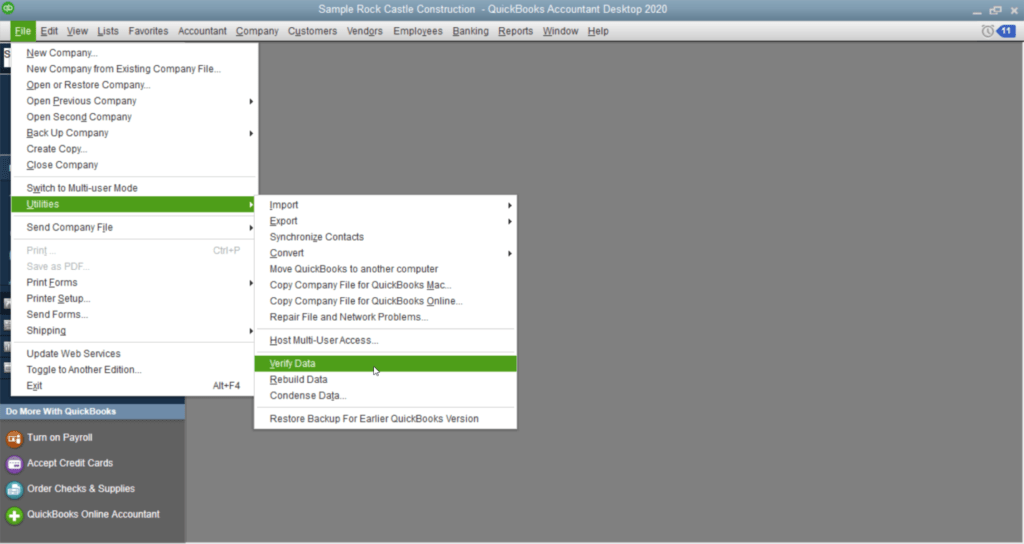 Step 1: Completely close all the running applications.
Step 2: Select the File menu from the options provided in QuickBooks Desktop and choose Utilities.
Step 3: No action is required if the message you see is "QuickBooks detected no problem with your data".
Step 4: Solutions for other specific error messages can be searched.
Step 5: The error message "Your data has lost integrity" shows that the data in the file has been damaged. To retrieve all the damaged data/corrupted data, it must be rebuilt following the steps below.
QuickBooks Rebuild Data Utility
Here is how to use QuickBooks rebuild data tool:-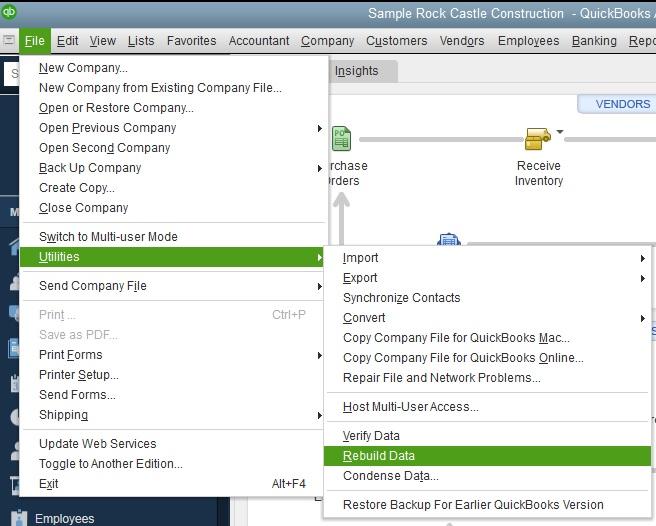 Step 1: Choose the Utility option from the File menu.
Step 2: Select Rebuild Data.
Step 3: During the rebuild process, some transactions or list entries need to be deleted to fix the issue with the file. Hence, it is safer to have a backup of the company files beforehand.
Step 4: The Rebuild process commences as soon as the backup is completed.
Step 5: Click OK with the 'Rebuild has completed' message.
QuickBooks Error 510: Company Data File Damage
The issues in the transaction and the damages done to the list of company data can be rectified by running the QuickBooks cleanup company data utility as follow:-
Step 1: Choose Utilities from the File menu.
Step 2: Select Clean up Company Data and put a checkmark in the box next to Compress Data.
Step 3: Please select OK, on coming across any warning message.
Step 4: Choose the Cleanup option from the window and allow it to run completely.
What does QuickBooks do?
The complete package of QuickBooks software comes in a desktop version and also in a ready-to-use online version. Few of the major functions of QuickBooks that helps day-to-day business activity are,
Create and Track Invoices
Every individual customer's income and account receivables are shown in an Aging report generated in QuickBooks. It is also easy to create invoices and share them with your customers.
Keep Track of Bills & Expenses
Your bank accounts and credit cards can be directly added to the QuickBooks profile to track all your bills and expenses. These records of expenses can also be added manually into QuickBooks. 
Print Financial Statements for Your Business
The performance of your business in any specific period can be seen in its detailed financial statement. All banks and financial institutions request a financial statement of your business before providing loans or a line of credits. QuickBooks can be used to produce the following reports,
Profit and Loss Report
A profit and loss statement can show the profitability of your business, which is calculated by subtracting the QuickBooks expenses incurred from the income generated.
Balance Sheet Report
All assets and liabilities of your business are shown in your balance sheet reports, which are important factors that the business keeps track of.
Statement of Cash Flows
The statement of cash flows provides information about all cash inflows and outflows during regular business activities.
Track Employee Hours and Run Payroll
Manually tracking work hours and generating payrolls can use up a lot of man-hours. The QuickBooks software can be used to automate this job effectively.
Businesses can make use of the 30 day trial period offered by QuickBooks online accounting software to try out all features provided by it, which can be useful to make decisions on whether to use QuickBooks for regular activities or not. 
Use QuickBooks Desktop Support Experts help to Fix QuickBooks Error 510
In case you need assistance with error 510 in QuickBooks desktop. Contact our QuickBooks 24/7 support number agents & get instant help for QuickBooks desktop errors at +1888-727-4587.