QuickBooks Error 15243 Overview
QuickBooks error code 15243 usually pops up on the screen when the user is trying to update QuickBooks Desktop or is downloading the latest payroll update. QuickBooks error 15243 may also show up when exporting transactions to excel. 15XXX series is a very common series of errors in QuickBooks desktop. Usually, users get it fixed by applying simple troubleshooting steps provided by experts. The ugly thing about errors like QuickBooks error 15243 is they affect the workflow. Sometimes users get stuck in resolving these errors on their own. In these circumstances, users should get in touch with QuickBooks tech support experts to resolve their concerns quickly.
Causes of QuickBooks Error 15243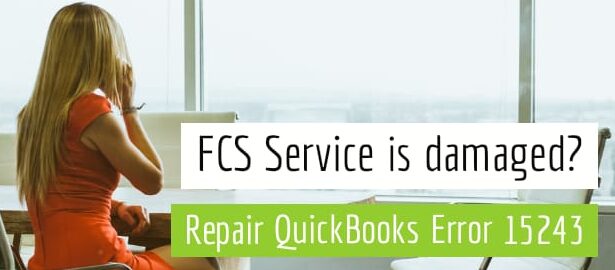 The various causes due to which QuickBooks error code 15243 occurs are mentioned below:
Incorrect QuickBooks installation
Intuit QuickBooks File Copy Service (FCS) is damaged
QuickBooks FCS service is not enabled
QuickBooks Payroll subscription has ended
Damage to Company File
User not logged in as an Administrator
QuickBooks Error 15243 – Intuit FCS Service is Damaged
QuickBooks Error 15243, while updating QuickBooks desktop appears on the screen stating Error 15243: Intuit FCS Service is Damaged. This is because the Intuit File Copy Service is disabled. Disabled FCS service is causing the error to update QuickBooks desktop. Intuit FCS service is an essential add-on service that manages file transfer during your QuickBooks desktop update. The below-mentioned steps are troubleshooting steps to resolve QuickBooks error 15243. It also helps when Intuit FCS is damaged.
Resolve QuickBooks Error 15243 in QuickBooks Desktop
End all open QuickBooks windows and close the application
Go to the Start button
Right-click on Computer/This PC
Choose Manage option
Go to Services & Application Tab
Double Click on the Services option
When you see Intuit QuickBooks FCS, click on it
Click on the General Tab
Click on Startup
Choose the Manual option
Click on apply
Choose Start & then Ok
Now, Reopen your QuickBooks as an administrator
Open Company file & Update QuickBooks again
QuickBooks Error 15243 When Trying to Export to Excel
When a QuickBooks user is trying to export a workbook or worksheet to excel. He comes across QuickBooks error 15243. The reason for this problem can be the payroll subscription. To resolve this error go to the Quickbooks Payroll account maintenance page to re-validate the payroll subscription.
Resolve QuickBooks Error 15243 in QuickBooks Payroll
Open QuickBooks
Go to the Employees option
Choose My Payroll Service
Select Manage Service key
Click on the Edit option
Verify your Payroll Service key
Choose the Next option & remove the check for Open Payroll setup- I want to start right now
Select the finish option
After the verification, Go to Employees
Select Get Payroll Updates
Download Latest Payroll Update for QuickBooks Desktop & Update
Contact QuickBooks Support to Repair QuickBooks Error 15243
If the above-mentioned troubleshooting steps for QuickBooks error 15243 don't help. Get in touch with the QuickBooks support team by dialing +1888-727-4587. A certified team of professionals is available around the clock to help you resolve errors like QuickBooks error 15243.
Common Errors like QuickBooks Error 15243