QuickBooks Error 1722 While Installing QuickBooks
Did you just face a crash in your system while installing QuickBooks desktop? You received a pop-up box saying "QuickBooks Error 1722 has occurred" or something?
Whether this was your first time or it has been a recurring error, we'll help you resolve it for good with the help of some simple steps.
Well, there can be numerous causes of this Intuit QuickBooks install error in 1722. You can solve them all by yourself by really simple means. Yes, there are multiple ways of solving this error, too, and I'm going to tell you each and every one of them.
What is QuickBooks Error 1722?
QuickBooks error 1722 is an Install error. It mostly occurs due to an error in the Microsoft.net framework. Here's what actually happens:
While Installing QuickBooks desktop. At the Intuit QuickBooks Installer window, the installation gets stuck. Your computer will respond slowly to your keyboard and mouse inputs no matter what you do.
Soon you will receive a pop up with a message saying –
Error 1722: There is a problem with this Windows Installer Package. A program run as part of the setup did not finish as expected. Contact your support personal or package vendor. Action NewCustomAction1, location: C:\Users\Username\APPDATA\Local\Temp\FP_AX_MSI_INSTALLER.exe, command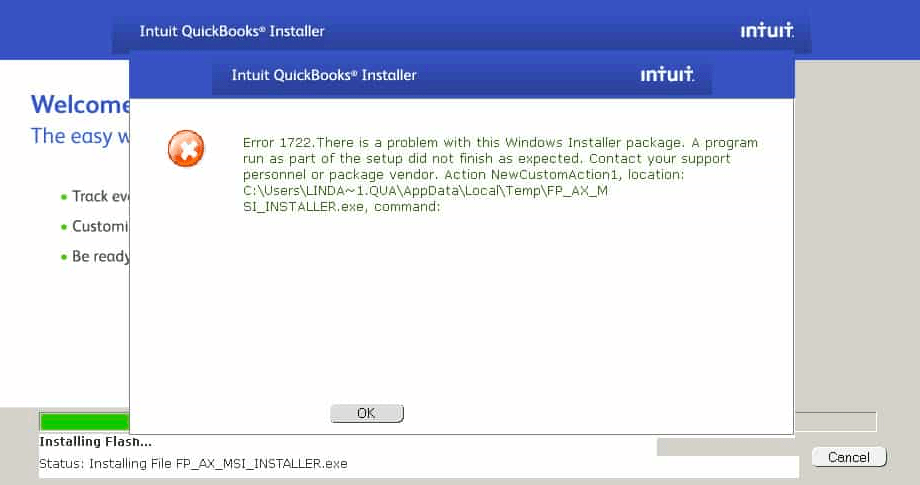 If you simply reinstall or update QuickBooks without solving this error, you'll face this error repeatedly.
Causes of Install Error like QuickBooks Error 1722
Before we move to the solution, it is important to know the root cause of the QuickBooks install error 1722.
Here are the possible reasons why you might be facing this problem with your software:
You may have downloaded a corrupt version of the software

Components are missing in the windows installer package

Your Windows OS may have gone corrupt

Virus and malware do have a role to play in corrupting your files that may affect the working of the software

Some of your important files related to QuickBooks Installation might have been deleted by error
No matter what the cause is, a solution is there for each and every one of them. Let's finally come to the problem-solving part.
How to fix QuickBooks Error 1722
Perform these troubleshooting steps to fix error 1722 while installing QuickBooks desktop. 
Method #1: Reinstall a Clean and Recent Version of QuickBooks
If you think the problem lies in the software, here's what you need to do:
Press Windows + R on your keyboard.

Open the run box and type appwiz.cpl.

Uninstall your current version of QuickBooks.

Restart your PC after doing so.
Method #2: Update Your Windows
If you think the problem could lie in your operating system, then fix it from here:
Go to your main system Settings

Open the Update and Security tab and go to Windows Update

Click on the button "Check for Updates"

Once you do that, Windows will start updating automatically

Restart your system once it's done
Method #3: Install and Use the QuickBooks Install Diagnostic Tool
QuickBooks comes with its own set of tools and software for repairing its errors. This is one of them, which is useful when you can't figure out your actual problem. Here's how it works:
Download the QuickBooks Tool Hub 

Install QuickBooks Tool Hub
Click on Tool Hub Icon
Go to the Installation Issues option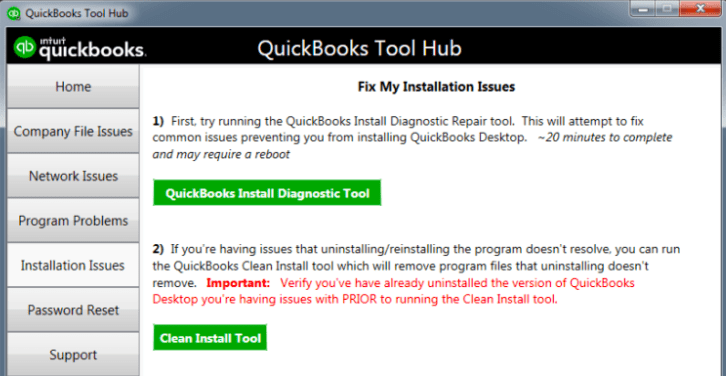 Click on QuickBooks Install Diagnostic tool
finish the scan & restart your system
Contact QuickBooks Desktop Experts to fix QuickBooks Error 1712
QuickBooks is a software that has diagnosed its own errors and has a fixed set of solutions to repair them. When error 1722 occurs, you need to repair your Microsoft.net framework, main Windows OS, or your QuickBooks software itself. Using the repair tools and software provided by QuickBooks themselves might actually make your work easier.
So, if you still face QuickBooks Error 1722, the best way to solve it talk to a QuickBooks 24/7 support expert on +1888-300-6790 & get an easy repair for Intuit QuickBooks to install error 1712.