How to Disable QuickBooks Sync Manager for QuickBooks Desktop
Recently users have come across errors and faults caused by the sync manager. In this article, we will learn how to disable QuickBooks sync manager.
What is QuickBooks Sync Manager?

QuickBooks Sync Manager is a feature in QuickBooks desktop. It synchronizes QuickBooks company file data information with other 3rd party applications & also communicates with internal add-on services by Intuit.
Recently Intuit has discontinued the QuickBooks sync manager from its features. New methods are being developed to improve user experience. As the focus is now to cater to clients online as much as they can.
Why Disable QuickBooks Sync Manager in QuickBooks Desktop?
QuickBooks sync manager might give you various errors while working on QuickBooks. After the discontinuation, the sync manager is not running on the latest technology which usually results in an error. By reading this guide you will be able to remove sync manager errors in QuickBooks.
What happens after you disable QuickBooks Sync Manager?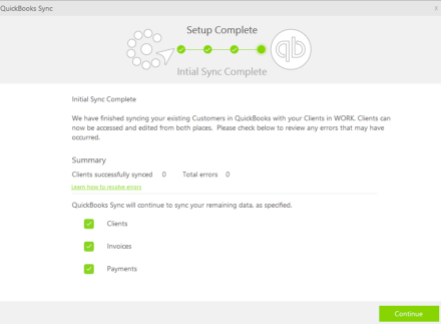 When you disable QuickBooks sync manager you no longer will be able to exchange data with other applications. Applications that use your QuickBooks information such as – Intuit 1099 e-file service, 3PointData, Abacus, B2B & Rep Portal, and CRM for QuickBooks – Crik-IT, etc. will not be able to sync with your QuickBooks desktop. Users can use the QuickBooks web connector as an alternative for Intuit sync manager.
How to Disable QuickBooks Sync Manager
There is a series of steps you need to perform to completely remove the QuickBooks sync manager feature.
Remember before you disable sync manager in QuickBooks, clear all company files being synced right now.
Perform these steps to do it:-
Go to taskbar
Search for Intuit Sync Manager in the system tray
Right Click on Intuit sync manager
It will display all company files which are being synced
Tap on Sync Enabled option
And Select disable from the drop-down options
Now clear the sync settings within the QuickBooks desktop
Open QuickBooks Desktop
Navigate to Help on the top menu
From the drop-down click on Manage Data Sync
Click on clear sync settings
Select Yes to confirm
You need to uninstall the QuickBooks sync manager to ensure that the QuickBooks sync manager error does not happen again. You need to remove it from the company preferences to stop automatic updates or Intuit sync manager update pop-ups.
Uninstall & Disable QuickBooks Sync Manager updates
Close QuickBooks desktop from the task manager
Ensure all services such as Intuitsyncmanager.exe are stopped from the task manager
Go to the system tray icons
Right-click on the Sync manager icon
Click on exit sync manager
Open local drive files on your desktop or locate C:\Users\\AppData\Local\Intuit\SyncManager and rename the SyncManager file to SyncManager.OLD
Go to Run & type msconfig.exe
Uncheck Intuit sync manager from the Startup in Microsoft configuration utility.
Contact QuickBooks Experts Manually Disable QuickBooks Sync Manager
If you need assistance from an expert in order to disable the QuickBooks sync manager. Contact support on +1888-300-6790 and get instant remote help for your QuickBooks desktop issues.