Fix QuickBooks printing problems in Safari – Unable to Print
Here are steps by which you can solve problems that occur in the printer in Mac OS X while using Safari- There are various solutions according to the error that fix QuickBooks printing problems in Safari.
Solve QuickBooks invoice print issue in Safari
The invoice is being printed neglecting the right margin
You can adjust your printer setup in QuickBooks online if you find your invoice being printed without the right margin. If the problem still occurs, try to check your Preview settings.
Steps to check your settings in Preview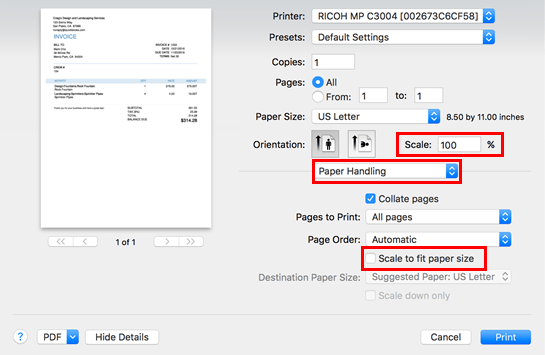 Select invoicing or sales and then select an invoice to print. Once the invoice is opened, click on Print or Preview.
Then on the print screen, click on the Print option or press Command + P simultaneously.
Now choose show details to alter the print settings.
Then go to the orientation section and check whether the scale is set to 100%. Now ensure that paper handling is selected in the

drop-down dialogue box and make sure the scale to fit paper size option is not selected.

F

inally, ensure that you choose the None option in the border section.
Unknown PDF plugins
You should remove all the third-party or unknown plugins that are installed from Safari. By doing so, it will automatically set Safari's internal PDF viewer as the browser's PDF handler by default.
Steps to remove the third-party plugins to fix QuickBooks Print Problems in Safari
Quit Safari and open a new finder window. Now select the go menu and then click on Go to Folder. Then enter this address in the required field: /Library/Internet Plug-Ins/. If you discover plugins with the following name,
PDF Browser Plugin.plugin
AdobePDFViewerNPAPI.plugin, or 
AdobePDFPDE.plugin
Shift them to trash or some other location on your computer. You should enter your password to authorize this removal. After that, you should reopen Safari and sign in to QuickBooks Online and then try to print your document.
If the issue still occurs, you can try troubleshooting Safari plugin issues using Acrobat or Reader.
The following system requirements are needed to use Adobe PDFViewer for Mac OS X
Safari 4 is required for Mac OS X 10.5.8 and Mac OS X 10.6.4

Safari 5 is required for Mac OS 10.6.4 and

Acrobat and Reader via AdobePDFViewer Safari plug-in are 32/64-bit (64-bit available in Safari 10.6)
Read how to Fix QuickBooks Printer Not Activate Error
To configure Acrobat and to display PDF files in Safari
To display files in Safari using Acrobat and Reader the AdobePDFViewer plugin is used. This plugin is usually installed as a part of Reader X or Acrobat X installation. You can find this file located in /Library/Internet Plug-ins/AdobePDFViewer.plugin
The commonly known Print issues are-
#1. Uninstalling an older version of Reader or Acrobat after Reader X or Acrobat X has been installed will remove the AdobePDFViewer plugin
Installing the Acrobat X or Reader X over an older version of Acrobat or Reader and simultaneously removing the older version will remove the AdobePDFViewer plugin. To enable the Safari integration again you should rerun the installer over the current installation. Then you should start the Acrobat X or Reader X installer from the original media and follow the onscreen instructions to complete the installation process.
#2. An Older version of the AdobePDFViewer plugin can overwrite the newer version of the plugin
Installing multiple versions of Acrobat or Reader on the same computer can cause plugins conflicts, to correct these issues you should follow these steps-
Remove the previous version of the Reader or Acrobat from your computer.

Then Reinstall Reader X or Acrobat X from the original media.
Also, Read how to fix Print & PDF Issues in QuickBooks
Steps to continue using Adobe's plugins
If you prefer to continue using Adobe plugins for Adobe Reader or Adobe Acrobat, you will need to make the following changes in your settings,
Go to Page size and Handling and then select Actual size and then choose Paper Source by PDF page size. Then under Orientation, you should select Auto portrait/landscape.

Additionally, you can troubleshoot printing issues by installing an updated printer driver or use a generic postscript driver that comes with the OS X.
Contact QuickBooks Experts to Fix QuickBooks Print Problems in Safari
You can contact your printer manufacturer or contact all, Contact QuickBooks support phone number +1888-300-6790 support desk for further assistance after trying these steps.