QuickBooks COM Error
QuickBooks COM Error Crash in QuickBooks Desktop has been a continuous pain for QuickBooks users. In the past few years, QuickBooks Desktop versions like Pro, Premier, & Enterprise ( version 2014,2015,2016,2017,2018, etc) have been encountered with com error while performing a particular task in QuickBooks. Some of them are as follows:
While Preparing Invoices
While Sending Invoices
While Editing Invoices
While Filtering Transactions or editing them
While preparing or editing reports
While configuring filters for reports
Download Windows 10 KB4338548 to resolve the COM error in QuickBooks Desktop
After the QuickBooks support team worked on resolving the QuickBooks COM error and fixed bugs in their software release. QuickBooks updated versions were free from COM Error for a while until APRIL 2018 when Microsoft updated a patch file for Windows 10. There were a number of errors that were encountered by QuickBooks Users. Also, the COM error crash was back on the QuickBooks desktop.
For QuickBooks Errors Like this Microsoft Updated a patch file fix for numerous QuickBooks Error Codes which were caused due to the latest Windows updates. The patch file is Windows 10 KB4338548 File which can be downloaded from the official Microsoft updates website.
TROUBLESHOOTING STEPS FOR QUICKBOOKS COM ERROR IN QUICKBOOKS DESKTOP (UPDATED SOLUTION 2020)
A reminder before you try any troubleshooting steps make sure your application is up to date as well as your windows.
SOLUTION FOR COM ERROR IF ERROR OCCURRED WHILE SENDING INVOICES VIA OUTLOOK
Update Outlook
Run Outlooks as an admin
Go to file at the menu
Choose Update Options
Choose Update Now
COMPLETE UNINSTALL YOUR OUTLOOK AND REINSTALL IT
Go to your control panel on the desktop and perform a re-installation of your OUTLOOK, contact QuickBooks assistance for help.
Click here to Repair your Outlook by uninstalling it to prevent the QB COM error crash
RUN QUICKBOOKS IN COMPATIBILITY MODE
On your dock or home screen search for the QuickBooks icon, that you use to run your QB
Right Click on the icon and go to properties
After you see the properties window, check for the compatibility tab
Select the option, Run this application in compatibility mode
Click on apply & ok
ADDITIONAL WINDOWS USER TO AVOID COM ERROR IN QUICKBOOKS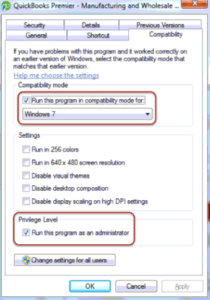 In Windows, COM error in QB can also be resolved by adding an additional user in your Windows
Go to Control Panel
Go to User Settings
Add User with equal administrator rights
Make Sure you have configured user account control properly
Log in to your new windows account
Open QuickBooks
CONTACT QUICKBOOKS TECH SUPPORT FOR RESOLVING COM ERROR IN QUICKBOOKS
If the Microsoft patch file doesn't work, or the above steps didn't troubleshoot the COM error in QuickBooks, Contact QuickBooks Error Support on our independent toll-free number and get an instant fix for the COM error in QB.