Use QuickBooks on a Chromebook
QuickBooks by Intuit is a crowd favorite when it comes to accounting software for small and medium businesses. Having started as desktop software, QuickBooks has evolved over the years to cater to growing business needs.
While the desktop software is available for both Windows and Mac users, there are lots of Chromebook users who also want to benefit from the QuickBooks software. But will you be able to use QuickBooks on Chromebook, or would you have to move to a Windows or Mac OS?
How to use QuickBooks on Chromebook?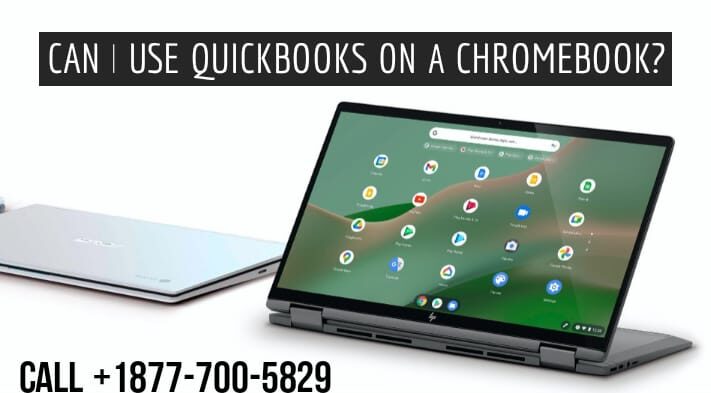 There are two main ways in which you can use QuickBooks in Chromebook we will look at both and the pros and cons of using these methods:
Get a Subscription for QuickBooks Online
Chromebooks are typically designed to work with applications on the cloud. They have relatively less processing power and storage space when compared to regular laptops. This makes QuickBooks online a good solution for Chromebook users.
QuickBooks Online is one of Intuit's product offerings that work through the cloud. So, with a subscription to QuickBooks Online, you can access your company file from anywhere irrespective of the device you are using – provided you have access to the internet, and the device meets the minimum system requirements.
Pros:
You have access to your company file anytime and anywhere (with an internet connection)

No problems related to the installation of software and backing up your files because Chromebook creates automatic backups to your Google Drive.

QuickBooks online subscriptions are easy to start and end. They do not tie you into any contracts.
Are you looking for a laptop guide – Check This
Cons:
Without an internet connection, you will not be able to access your company file or make changes to it.

The features available in QuickBooks online are limited. QuickBooks desktop versions have more functions and features to support your company's bookkeeping and accounting requirements.
Host your QuickBooks Desktop Software in the Cloud
QuickBooks was designed and optimized to support small and medium business owners who would usually be using a Windows OS device. This is the reason why many users feel that QuickBooks is best when used on a Windows computer. While QuickBooks has expanded its offerings and included QuickBooks for Mac and QuickBooks Online, it continues to have a large number of Windows users.
QuickBooks Online doesn't include all the features that you can access on QuickBooks Desktop designed for Windows PC. So, to be able to use QuickBooks for Windows on a Chromebook, you can host your QuickBooks software with a cloud provider and access all its features from your Chromebook.
To use a hosted version of QuickBooks on your Chromebook, you must buy the latest version of QuickBooks from the official website or through an authorized reseller.
Then choose a cloud host. You must look for a cloud host provider who offers private and dedicated QuickBooks cloud hosting services. This will ensure that your QuickBooks data will be safe and secure.
Your cloud host will upload the software to the cloud and use the QuickBooks license you purchased to license your software. Once your files are ready on the cloud, the provider will help you understand how to access the files and work on it. The cloud host provider will have an application that it uses to access your files in the cloud. They will also provide you with login credentials that you can later change to access the files in the cloud.
Once this is set up, you can start using QuickBooks from the cloud and access all its features.
Pros:
This method allows you to access the benefits of using QuickBooks desktop on Chromebook. Unlike QuickBooks Online it has more features and offers a better user experience.

Since your software is in the cloud, you can access it anytime through an internet connection.

Creating regular file backups is not required by cloud host providers usually offer automatic backups.
Cons:
It involves the added expense of using a cloud host provider. If you are trying to save money, then this may not be a budget-friendly option.
QuickBooks is best used on Windows. But if you are a Chromebook user, then using QuickBooks Online or using QuickBooks through a cloud host are the best options.