Automated QuickBooks Password Reset Tool – How to Download and Use This Tool
Automated QuickBooks Password Reset Tool comes in handy when you have lost or forgotten your administrator QuickBooks password. Humans make mistakes, and losing track of important passwords is a common trait. But with every good software or website, there is always a way to recover the password or create a new one with a few simple steps.
What is Automated QuickBooks Password Reset Tool in QuickBooks Desktop?
The QuickBooks Automated Password Tool is specifically built to solve this issue or problem for the customers who tend to forget their passwords quite often. With the help of this tool, lost or forgotten passwords can be recovered easily. But not everyone knows how to download this software and use it properly. That is why today, we will be explaining to you how you can download the password resetting software and use it to save yourself from the embarrassment of forgetting a password.
How Can You Download and Use the Automated QuickBooks Password Reset Tool?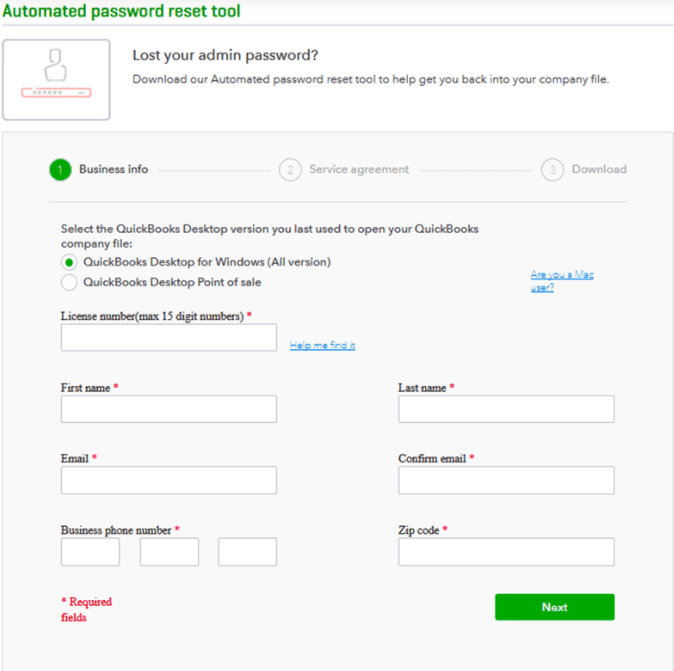 For downloading the software, simply go to the website of QuickBooks and search for the password reset tool page. Once done, you will be asked to choose the QuickBooks Desktop version that you used last time for opening the QuickBooks company file. Ensure that you are choosing the right version.
Download Link: https://support.quickbooks.intuit.com/support/passwordremoval.aspx
One thing that you must note before going ahead with the process is that .Net Framework 2.0 must be installed on your computer for the password reset tool to work correctly.
After you have selected the tool's version, you will be asked to fill in important details to verify that you are not trying to hack the software.
Details to Enter after Running QuickBooks Password Reset Tool
You will be asked for the following details after opening the password reset tool in QuickBooks –
License number (it should be in digits only). If you can

'

t find your license number, then there is a separate

'

Where to find my license number

'

option which you can refer to for further assistance.

First name

Last name

Email

Confirm Email

Business Phone Number

Zipcode
Every field mentioned above needs to be filled, or else the tool won't work for you.
Important Things to Remember While Following Steps to Use Automated QuickBooks Password Reset Tool
There are some important tips that you must remember while going through the steps mentioned above. The phone number that you enter must be of 10 digits and no more. You have to ensure that the ten-digit phone number doesn't carry an extension at the end. While entering the phone number, if +1 automatically adds to the number, it means that the United States is set as the default country. You can select and change the country for you by manually editing the phone number.
While going through the steps, ensure that you accept all the license agreements. Once you have done that, the download for the Automated QuickBook Password Reset Tool should start automatically. If that doesn't happen, click on the 'Download Now' button for the downloading process to start.
It is important to remember at the time when the file is starting to download, and you are asked to Save the File or Run it, just choose the 'Save' button and save it on the desktop of your computer.
Once done, follow these steps to run the automated QuickBooks Password Reset Tool:
Run the downloaded tool and use the token number which you have received through email.

Use the QuickBooks Desktop Products drop-down, and then select the QuickBooks version you used the last time to open your file.

Click on the

'

Browse for Company File

'

option, and then you have to choose the file of which you have forgotten the password.

Enter your new password once and then twice for confirming it. Note that here you should create a temporary password since once you open the company file, QuickBooks will ask you to enter a new password.

Simply select

'

Reset Password

'

to complete the process, and you will be sorted.
These are all the steps and important things that you need to remember if you forget the password of a company file and want to use the QuickBooks Automated Password Reset Tool.
Contact QuickBooks Experts to Know more about Automated QuickBooks Password Reset Tool
The tool works in an effective manner only when the steps mentioned above are followed accurately. In case you need guidance from an expert you can call our QuickBooks 24/7 support phone number at +1888-727-4587. Get the answer to all your QuickBooks password reset tool queries.