How to fix Error: PDF viewer not installed on your computer in QuickBooks
While working on QuickBooks Desktop you are unable to view your pdf forms or print them in QuickBooks. You get an error message saying " Error: You do not have a PDF viewer installed on your computer"
What causes this Error
The root cause of this error is when ADOBE Acrobat Reader is not installed on your computer. But there are times when it is still installed and you get the error. Here is what you need to do to get rid of this error.
How to fix Error: PDF Viewer not installView Posted in QuickBooks Desktop
In case you do not have Adobe Acrobat reader installed on your computer. Follow these steps to install it:-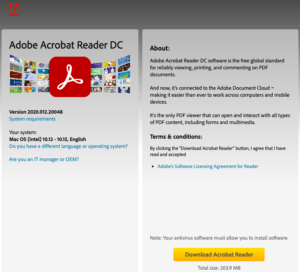 Click on download
Follow on-screen instructions to complete the installation
Also, Check how to fix QuickBooks cannot create pdf file errors.
If ADOBE ACROBAT READER is installed
If the acrobat reader is already installed on the computer then choose it as a default application to open documents.
How to Set Adobe Reader as your default program to fix QuickBooks pdf viewer error
For OS (Windows 7, 8, & 8.1)
Go to Control Panel
Click on Programs
Locate Set Default options
Locate ADOBE PDF viewer
Select the program & click Set this program as default
For OS Windows 10
Go to the Settings option from the start key
Click on Apps
To your left click on the Default applications
Locate .pdf and click on set its default program
Click on Adobe Acrobat Reader
Click on Switch anyway
After performing these steps try to check whether you are able to view & print your pdf files in QuickBooks Desktop
More About Print & PDF Issues in QuickBooks Desktop
Contact QuickBooks Expert to Resolve QuickBooks Errors
To repair common QuickBooks errors read our self-help articles. If you are unable to fix the error get in touch with QuickBooks 24/7 Support experts at +1888-727-4587. Get instant help for any QuickBooks-related query.