What is Quickbooks Desktop Pro?
Quickbooks Desktop Pro is an accounting solution specially designed for small and midsize customers. It is considered an ideal solution for small business owners who want to be in charge of controlling their management costs by having accounting in-house with limited staff/budget.
It is affordable to purchase, easy to install, and efficient to use, especially for those who are not necessarily accountants by trade. Its simplicity is its very strong point. Besides that there are several other features of Quickbooks Desktop Pro, some of them are mentioned below: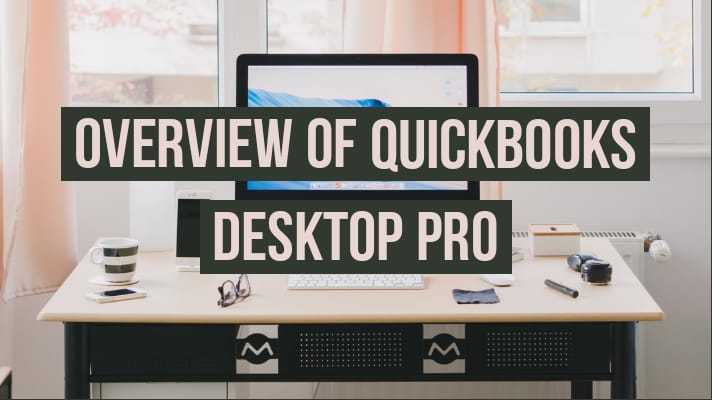 The majority of accounting functions can be performed quickly and easily, which is always an advantage for business owners. 

It provides the option to input vendors and their bills, and then pay them at your will.

Moreover, it is well efficient for sending tax prep to all independent contractors with just a few clicks. 

It has been proven a very useful tool when it comes to reporting as various reports are available to completely satisfy investors and accountants. 

Quickbooks promises to provide vigorous functionalities of a core accounting software application, including payable & receivable account data, project accounting, expense management, and payroll management. 
It is armored with the 'Bank Account Reconciliation' feature, which allows users to link their bank accounts. Besides that, it maintains the workflows better for the accounting activities that provide options for automated payments and deposits for users from their linked bank account. Quickbooks is also very much capable of managing the employee payrolls through a single application. 

Quickbooks Desktop Pro is very helpful when it comes to automation of payments like the billing and invoicing process and work order management from a single unitary window. Users get the option for syncing, linking, and importing data from other integrated applications also, such as PayPal, American Express, Etc. This feature makes it very easy for users to check on monthly expenses and earnings as it automatically records the transactions done in the shape of expenses as well as earnings.

Quickbooks Pro gives the dynamic option to be installed both on the system and in the cloud. 

Users also have the option to download Quickbooks mobile app , which is available for iOS and Android devices to access information from anytime, anywhere.

Quickbooks provides a simple user interface for entering the required information whether it is an invoice, receipts, or a ledger. It makes an easy flow through to the preferred locations in an instant. 

Moreover, it allows the ability to see the effect of those changes immediately, which are great for making the workload much lighter.

This software can be used daily for all accounting cycles, such as AP, AR, GL, financial reporting, etc. 

It's very flexible to use as it provides easy options to fix mistakes. Furthermore, it is well designed to accommodate DCAA compliance; several report functions, and drill-downs. 

It is capable of working nicely with ICAT. It works in such a manner that QB data can be used to calculate indirect cost rates.

Furthermore, the software is very easy to use. It is very user-friendly. A lot of the functions are spelled out on the screen, which makes it very helpful for someone who is a new user of this software. 

It has many different functions, like reporting, forwarding the invoices, storing the customer's information, and the ability to create certain tax forms from QB. 

It also provides the option for multiple windows at once.
Some of the Quickbooks Desktop Pro Benefits
Collections Management

Expense Management

Financing Management

Inventory Management

Payroll Management

Recurring Billing

Sales Management
Operating System(s) Supported by Quickbooks Desktop Pro:
Windows 2000, Windows XP, Windows 7, Windows 8, Windows Vista, Mac OS, Linux, AIX, HP-UX, Unix, Solaris, IBM OS/400, Web browser (OS agnostic), Windows 10.