A Brief Intro To Quickbooks Desktop for Mac
Technology has been advancing and moving at a pace like never before. In today's world, many technological advancements have started making their mark in the commercial, financial, and business sectors. One such advancement in the field of computers that has gained increased popularity among small business accountants is Quickbooks. Well then, what is Quickbooks desktop? Let's discuss it in brief.
How To Convert QuickBooks Desktop For Windows File To Quickbooks Desktop For MAC
Quickbooks is accounting software and has all the required features to help businesses manage their customers, vendors, and clients, and also handle processes related to inventory and finances. Why has this accounting software gained popularity among small and medium businesses? It's because of the tools that Quickbooks provides.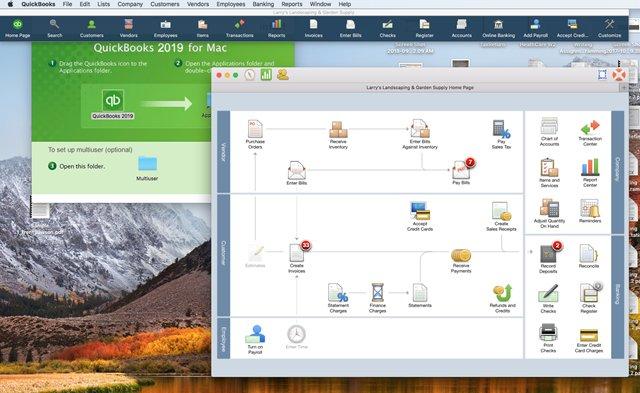 This software can manage finances and payroll, track expenses, generate business reports, accurately keep a record of invoices, and do more. It is believed that Quickbooks has transformed the way accounting is handled and has simplified business operations altogether.
The Challenge
Just like in the case of many software, there are certain features of Quickbooks that some users find challenging to deal with. One such technical issue is converting QuickBooks for a Windows file to QuickBooks for Mac interface file. Several users often get stuck with this. This blog will discuss in detail the process involved in converting QuickBooks for a Windows file to QuickBooks for Mac. Read on!
How To Convert QuickBooks for a Windows file to QuickBooks for Mac- The Process In Detail
If you are trying to convert a Windows file on Quickbooks to a file on Mac and have been stuck in between, and if all you need is a general idea to proceed, then have a look at the following steps.
What To Do On Your Windows Computer
Open QuickBooks for Windows as an Administrator.

Select the respective company file that you want to convert.

Now follow this series of steps. Select

File

. Then choose

Utilities

. Among the options displayed, choose

Copy Company File

for QuickBooks Mac. 

A set of instructions would be displayed onscreen. Follow them. 

Quickbooks will create a backup file in the MAC.qbb format.

At this stage, you will see a message stating, "

It looks like Quickbooks For Windows Is A Better Fit Your Company

." Confirm what data isn't getting converted from Windows.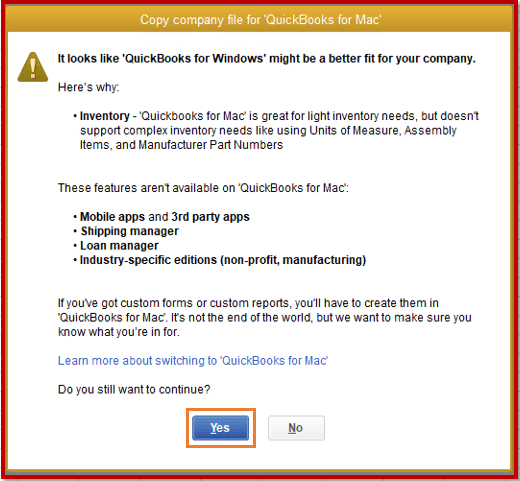 If you want to proceed further, select

Yes

.

Go to the folder where you want the file to be saved. Give it a nice name, and select

Save

.

After the file is saved, all you need to do is to copy the MAC.qbb file to an external storage device like a CD or USB drive or others.
What To Do On Your MAC Computer
On your Windows Computer, a backup file in the MAC.qbb has been created. That file can be restored in Quickbooks for MAC. Follow the following steps.
Before opening Quickbooks, copy the backup file to the Documents folder on MAC.

Open QuickBooks for Mac. Select

File

. After that, choose Company. 

You will see the MAC.qbb file. Select it and then click

Open

.

The software will ask you if you want to restore QuickBooks for Windows files. Select

OK

.

Give a name for the Windows restored file and then click on

Save

.
That's all! You will be able to open a Quickbooks for Windows file on your MAC desktop.
Some tips will help you to have a smooth operation while converting a Quickbooks for Windows file into a Quickbooks for MAC file. We have put together some important tips that will be of help. Read on to know more.
Tips While Converting a Quickbooks for Windows file into a Quickbooks for MAC file
Make sure that your Quickbooks for Windows and Quickbooks for MAC are both updated to the latest version.

Postpone the installation of any QuickBooks updates till you have restored the file on your MAC desktop.

Avoid entering fresh data while the file is with your accountant. Why? This will help to prevent losing existing records when you are restoring your file onto the MAC desktop. 

Using the same year version of the software on both Windows and MAC will help in the smooth conversion of the file.

If you are unsure about the version of Quickbooks that you are using, then press the F2 key or Ctrl + 1 keys while QuickBooks is running. This will show the Product Information window and you can know about the version.
Make sure that you follow the above-mentioned process, and also stick with the tips that have been mentioned. You will easily convert a Quickbooks for Windows file into a Quickbooks for MAC file.
Contact QuickBooks Support Experts for QuickBooks Conversion Services
If you find it difficult to convert your Windows company file into QuickBooks for Mac file. Contact QuickBooks error support experts at +1888-727-4587 & get instant help for QuickBooks Conversion & Migration.