Target Chaining Error When using QuickBooks Rebuild Tool
When QuickBooks desktop users use the QuickBooks rebuild data utility. They come across target chaining errors in QuickBooks in the QuickBooks Log File or QBWin.log file. These errors are correlated with QuickBooks desktop unrecoverable errors. This error is very common among QuickBooks Enterprise users.
Verify.c (4620) : CHECKPOINT: 1104: Thu Aug 14 19:56:34 Target Chaining Error: Target ### in transaction ###, points to 'next' target ###### which is NOT in that transaction
Verify.c (4747) : CHECKPOINT: 3544: Fri Aug 01 09:30:56 Target Chaining Error: Next target pointer error in transaction #####
On the other hand, a Target chaining error may also appear in the audit trail. You might not see the actual dates of the transaction & it might appear In Version 2.0 in the Entered/Last Modified column.

Necessary Steps Before Fixing the Error
Ensure you are logged in as an administrator when rebuilding your company file.
End all QuickBooks processes running in the background before you verify/rebuild your file
Open task manager and end all tasks, other than QuickBooks
Check for the latest updates on the QuickBooks desktop
Causes of Target Chaining Error in QuickBooks Desktop
Errors in QuickBooks Company File
Transactions are not linked
Unlinked Transactions do not have names
Your QuickBooks desktop company file is bigger than 2GB
QuickBooks desktop is not up to date
There is a sync manager error with your QuickBooks desktop
QuickBooks file already condensed
How to Fix Target Chaining Error in QuickBooks
You can easily fix the error using the steps given below. But there may be instances when you might need the help of a technical support expert. You can contact us on +1888-727-4587.
Solution 1: Use Rebuild Data Utility
Step #1 – Use Rebuild Data
Launch QuickBooks as an administrator
Click on the File menu
Choose Utilities
Click on Rebuild Data
Choose Ok
Step #2 – Use Verify Data
Repeat the first three instructions in Step 1
Click on Verify Data
Click on Ok
Solution 2: Restore a QuickBooks Backup File (.qbb)
If you fail to rebuild your company file data. Open QuickBooks Desktop and restore the latest backup of your company file. Here is how you can restore your latest backup:-
Open QuickBooks Desktop.
Press F2 on your keyboard for the product information window.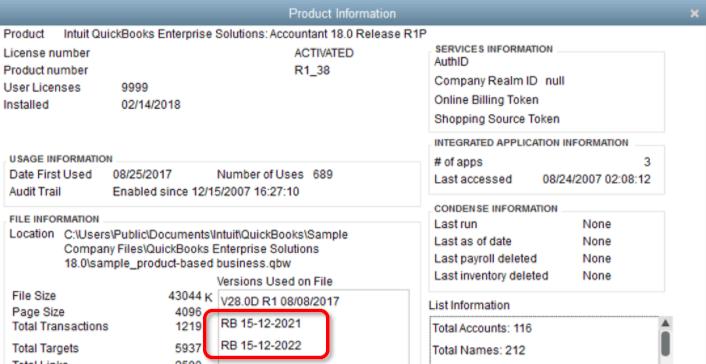 QuickBooks will display the date of the last backup created & rebuild data date in the Versions used on file Column.
Locate the last backup file and store it locally on your system.
Now launch QuickBooks Desktop.
Go to File.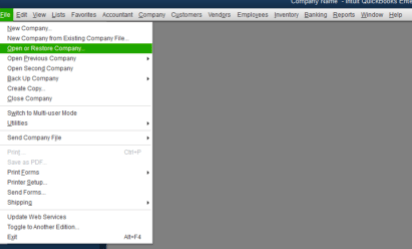 Click on open/restore a backup.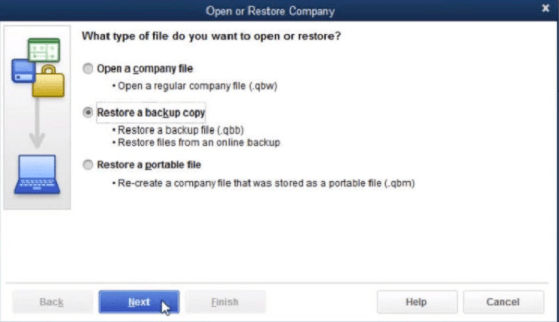 Choose Restore a backup.
Browse & select the backup file stored locally.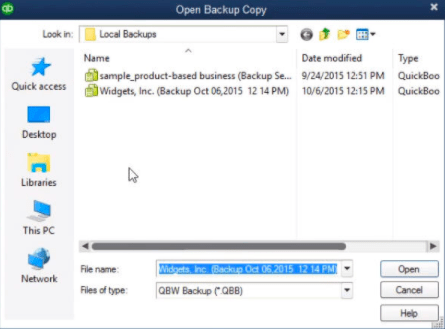 Now, Select the location to store your company file.
Click on Save and follow onscreen instructions for the restore to finish.
Do not proceed with overwriting your data on the QuickBooks desktop unless you want it.
Go to File

Click on Utilities

Next click on Condense Data Tool

A wizard tool will come up on the screen. You must select 'Transactions before specific date' and enter the dates accurately

Click on Next and select the 'Summarize Inventory Transactions' option

Next, select a method of condensing inventory

Select the Transaction groups that you wish to remove

 

Click on 'Begin Condense' to initiate the condensing process
Contact QuickBooks Enterprise Support Experts To Repair Target Chaining Error
In case the troubleshooting steps do not help you fix the QuickBooks target chaining error. Contact QuickBooks Enterprise support experts at +1888-727-4587 and get instant error support for the QuickBooks desktop.