Verify and QuickBooks Rebuild Data Utility – QuickBooks Desktop
You may run across some data integrity issues on the QuickBooks desktop version, but it's a known issue and can be fixed quickly. Within the software, you get QuickBooks features like QuickBooks Verify & Rebuild data utility to resolve any technical data hiccups you might be facing. QuickBooks rebuild data feature is a diagnose-based utility for QuickBooks desktop to detect errors in the data file.
Company File Errors Fixed by QuickBooks Verify And QuickBooks Rebuild Data Utility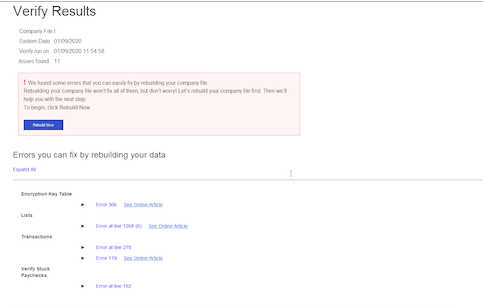 Fatal errors that cause QuickBooks desktop to crash
Missing transactions or names from lists
Negative values in reports for bills or invoices
Missing accounts from balance sheet reports
Payments on the Direct Deposit window showing payments that have been deposited already
The above problems can be solved by running the QuickBooks verify and rebuild data utility. You may also use the tool to check if your date is free from errors.
What Is QuickBooks Verify Data Utility?
Sometimes, you might get an error that indicates that the backup cannot continue as the QuickBooks Verify tool has detected an error. Sometimes, verifying data in QuickBooks might not respond. Such issues are not uncommon and can be tackled using QuickBooks Verify Data Utility.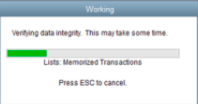 When you run this tool, it checks all the company files in QuickBooks to make sure they are in good shape and free from any data errors or discrepancies. The tool verifies every single file and can find broken transactions too.
Once the Verify Data Utility tool finds an error, it records it in the qbwin.log file so that you can crosscheck and fix the problem. Using this QuickBooks tool, you can prevent data losses by finding fatal errors before they can do any harm. The Verify and Rebuild Data Utility in QuickBooks work together to find and resolve such errors.
What Is QuickBooks Rebuild Data Utility?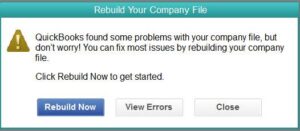 QuickBooks Rebuild Data utility in QuickBooks desktop helps repair damaged company files. It attempts to either update data that is incorrect or repair it.
You may use the tool if you run into the following issues:
When you get a b-check error in the Verify Data Utility
When you get the 'Verify data utility has failed' pop-up message
If the QuickBooks support professional recommends you to run the tool
The QuickBooks Rebuild Data Utility helps fix major data errors before they can cause damage to your company files.
For instance, the tool can delete irreparable list entries or transactions that could threaten the data integrity of your company files.
It is, therefore, a complex tool and should not be used too frequently. Also, it is never a good idea to use the QuickBooks Rebuild data utility if your file is located on a remote drive.

You should always back up your files and take other preventive measures before running the tool to avoid data loss.
Moreover, when you rebuild your company file, you will see a message prompt to backup your data file. Also, You can use the 'Backup Data to the Local Computer' option for this.
How to use QuickBooks Verify Data Utility
The first step in the utility is the QuickBooks Verify data tool. You can check the integrity of your files by following the steps mentioned below.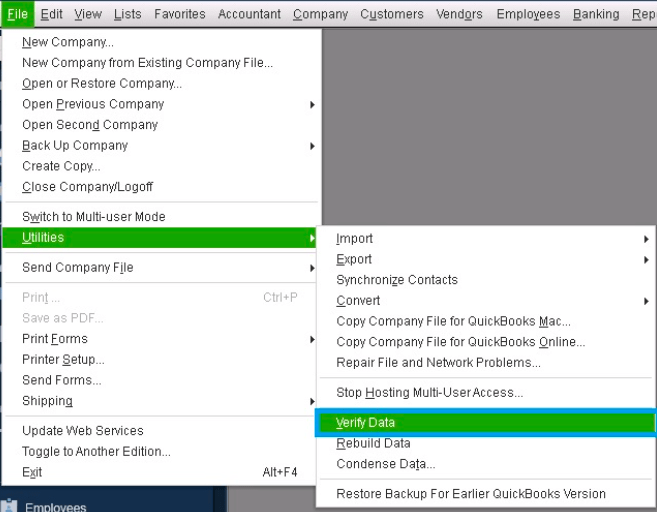 Open QuickBooks Desktop and go to 'Files', then 'Utilities'.
Choose the 'Verify Data' option.
QuickBooks verify tool will check for errors. If it does not find any issues, you can resume your work and need not use the Rebuild data tool.
But if you get an error message saying that your data integrity is lost, then you need to fix your file as it is not in a good shape. You can do this using the QuickBooks rebuild data utility.
How to run QuickBooks Rebuild Data Utility?
Again, before using this tool, make sure you have backed up the file to avoid permanent data loss. Now follow these steps: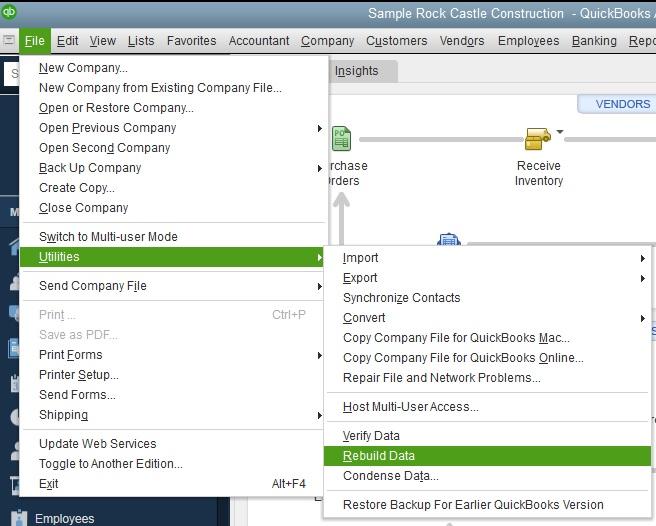 Go to the 'File' menu in QuickBooks and choose 'Utilities'.
Click on 'Rebuild Data' and click 'OK' on the next info window.
Now follow the prompts shown on the screen and make the right selections.
QuickBooks Rebuild data utility tool will then begin fixing the files and will also show you the estimated time for the process. Once it is finished, click OK.
Verify QuickBooks Data to analyze QuickBooks Data File Integrity
You may then run the Verify data tool again to make sure that the repair tool did fix all the errors successfully and that the integrity of the data is fine now.
QuickBooks Verify Data and QuickBooks Rebuild Data Utility is a powerful and extremely welcome feature in QuickBooks that can resolve a lot of major data integrity errors.
Contact QuickBooks Desktop Experts to help you with Verify & QuickBooks Rebuild Data Utility
After reading the article, If you're still having trouble with QuickBooks rebuild data utility, you should get in touch with our QuickBooks desktop support team via toll-free at +1888-727-4587 or chat support before doing any troubleshooting yourself.