How to Setup & Activate Payroll in QuickBooks Desktop – A Beginners Guide
Are you new to the QuickBooks software and unfamiliar with the QuickBooks Payroll setup process? Here's some help.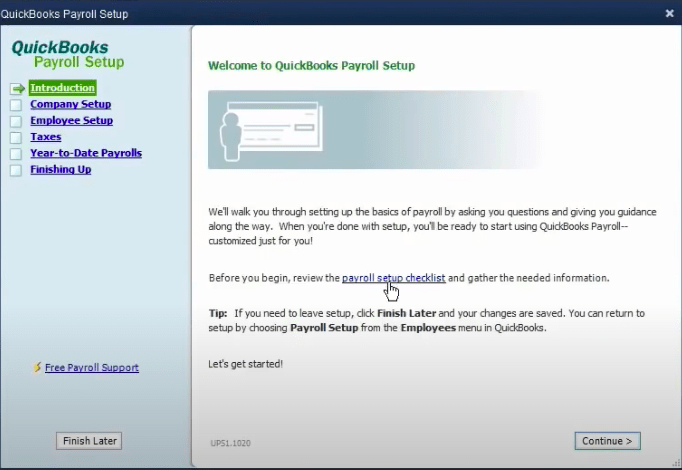 Handling payroll is a very time-consuming process, but the correct software can handle most of the work for you. QuickBooks is one of such tools that help you save a lot of energy as well as costs while managing payroll.
Easy QuickBooks Payroll Setup Guide for QuickBooks Desktop Pro, Premier & Enterprise in 2021
For new users, the QuickBooks payroll setup process can be lengthy and a bit daunting. However, it is quite easy to install and activate the software in just a few minutes. This tutorial will guide you through the installation process and help you activate QuickBooks on your system.
Before You Begin with QuickBooks Payroll setup
The time it takes for QuickBooks desktop payroll setup depends on the number of employees in your company. To make the process easier, collect all the essential employee and employer data beforehand to save time.
This data can include: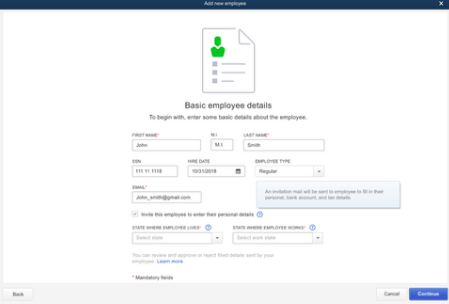 Worker's details

Bank account details

Deductions/additions

Employee benefits

Pay rate

Pay schedule

Number of leaves allotted

Hiring date
The above list is not definitive and may vary depending on the size and nature of the company.
How To Activate Payroll In Quickbooks Desktop
The first step of QuickBooks desktop payroll setup requires you to activate QuickBooks payroll.
If you bought the software from a physical store:
In QuickBooks, click on 'Employees', then go to 'Payroll', and finally choose 'Install Payroll from Box'.

Fill up all the necessary QuickBooks product license information on the page. Your payroll license number is marked inside the box on a bright sticker, and the product number is usually inside the folder.

After entering the details, click 'Continue'.

Fill all the mandatory legal sections and you're good to go!
If you bought the software via Email or phone:
Go to the 'Employees' menu, choose 'Payroll', then click on 'Enter Service Key'.

If a payroll subscription currently exists, you will be asked to add the file to the subscription. Add the file if needed, or skip to the next window.

Enter the service key that you got via email. Sometimes, the service key is automated.

On successful verification, you will see a confirmation. That's it!
That is all you need to activate Payroll in QuickBooks desktop. Once you have done this, the final QuickBooks payroll setup is actually very simple and easy.
Quickbooks Payroll Setup Wizard in QuickBooks Desktop
On your desktop, open QuickBooks.

In the top toolbar, select 'Employees'.

Choose the 'Payroll setup' option.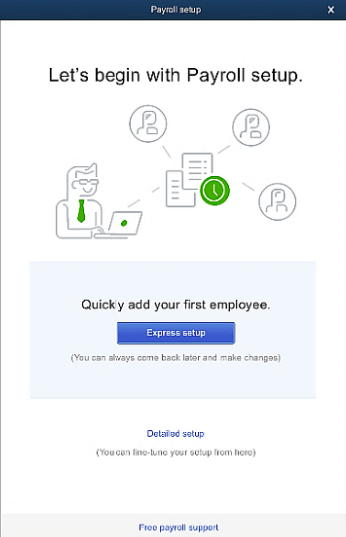 A wizard window opens up. Follow the steps mentioned in it.

Click on finish.
Once you have followed the above-mentioned steps, your Payroll setup will have been activated, and you can start using it. Make sure you use the correct service key to avoid activation failure. Also, remember to keep the software updated at all times.
Handy Quickbooks Payroll Setup Tips
Now that you are ready to use QuickBooks, here are a few tips that you may keep in mind while managing the accounts.
It is best to avoid creating accounts using the name of vendors or customers.

Never mix the business funds with your personal funds to avoid confusion. It could lead to serious complications, even legal ones.

Make sure you choose the version of the software that is suited for your particular business.

The storage facility in QuickBooks can be quite useful for keeping contracts, documents, etc.

In case you do not understand a feature, you should get in touch with the QuickBooks payroll support team on +1888-300-6790 if you're not confident enough to fix it yourself. You don't want to end up losing critical data.
What Is Quickbooks Desktop?
Simply put, QuickBooks is made for accountants. It is one of the most popular business software used for accounting to keep books for small and medium-sized companies.
With this powerful tool, you can manage expenses and sales and keep a tab on the income. You can generate reports for financial planning and track daily transactions.
QuickBooks also helps you to prepare bills, file taxes, do payrolls, etc. You get a lot of customization options that are easy to use and help you control your finances in one place. It does require a bit of a learning curve, which is expected from serious accounting software.